Celtic manager Neil Lennon voices frustrations over the public's perceptions of him
Celtic manager Neil Lennon believes he is 'no more confrontational than any other manager in the SPFL'.
Last Updated: 07/02/14 4:10pm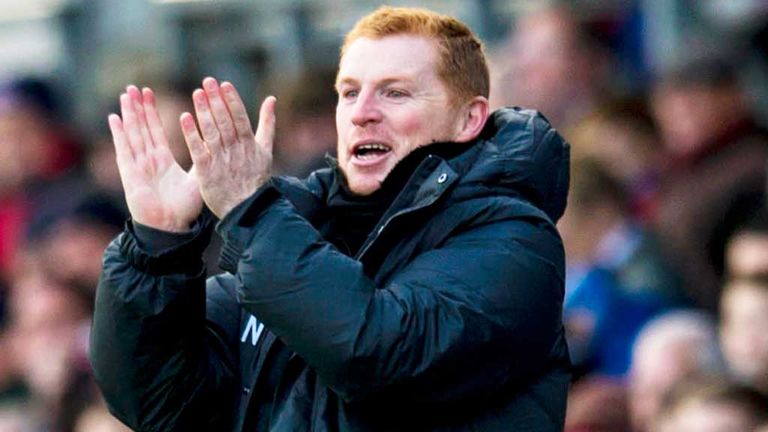 Police are investigating the latest attack on Lennon after missiles flew past his head as he watched the League Cup semi-final between Aberdeen and St Johnstone at Tynecastle last Saturday.
This is the latest incident in a stream of attacks which have seen Lennon being knocked out in a street attack, had bullets sent to him in the post and being a victim of a letter-bomb campaign that saw two men jailed for five years.
And the 42-year-old insists these incidents are getting harder for him to comprehend.
"I don't need it. I'm not happy with some of the stuff that has come out regarding myself in terms of journalists saying, 'He attracts it, it's his controversial, confrontational nature'," Lennon said.
"For me, that's very irresponsible. I am no more confrontational than any other manager in the SPFL. However, when it's an issue regarding me, it seems to be imbalanced.
"You cannot have people throw coins at you when you are sitting there trying to do your job. And yet some people in the back of their minds think it's my fault. Why this happens, I don't know.
"In the past there is no question there were sectarian elements to what happened to me. People want to bury their head about that. I don't, I want it said and I want something done about it. Last week there was no evidence of a sectarian element, but certainly a hooligan element.
"It's getting harder to comprehend because I don't think I have done anything to warrant it. I think my players, myself, my backroom team conduct ourselves in the best way.
"I see managers every week losing the rag. I don't complain because I understand how they feel. But there's no pictures of them the next day going up to the fourth official and being abusive or squaring up to another manager. But when I'm involved it's front and back page."
And Lennon, speaking during his media conference ahead of the William Hill Scottish Cup clash with Aberdeen, called on others to help change his public persona.
"I don't think the condemnation is enough. Sometimes I get the feeling that, 'It's Lenny, he can take it, he's a stand-up guy, he's a street-fighting man'. All that c**p. I'm fed up with it," Lennon said.
"I don't go street-fighting. I look after myself and my friends and family. I live my life as quietly as I can away from football but I'm in the public eye.
"But a lot of the stuff has been almost life-threatening and the condemnation has been nowhere enough."
And When asked whether he was close to the tipping point and might quit Celtic on the back of these incidents Lennon was quick to state that it 'hadn't got to that point yet'.
"I don't know, I don't know. It's a lot to give up and I don't really want to do that if I can avoid it," Lennon said.
"No, it hasn't come to that point yet, certainly not. What will determine it is if things go wrong on the pitch. And that will be determine by other people, not me.
"It may be my decision further down the line, but I'm not picturing that scenario. I want to be as successful as I can for as long as I can.
"I love being the manager of Celtic. It's a privilege, an absolute honour. And I don't want to give it up because I worked very, very hard to be in the position I'm in.
"That's the reason why I haven't walked. It's a prestigious job, a precarious job if you look at what's going on in England, a lot of sackings.
"Being the manager of Celtic, there are only 17 other people who have done it, and that means a lot to me."