Rangers Supporters Trust admit ownership of club for fans could be 'a long way off'
The Rangers Supporters Trust admit handing ownership of the League One club to its fans 'could be a long way off'.
Last Updated: 12/02/14 3:07pm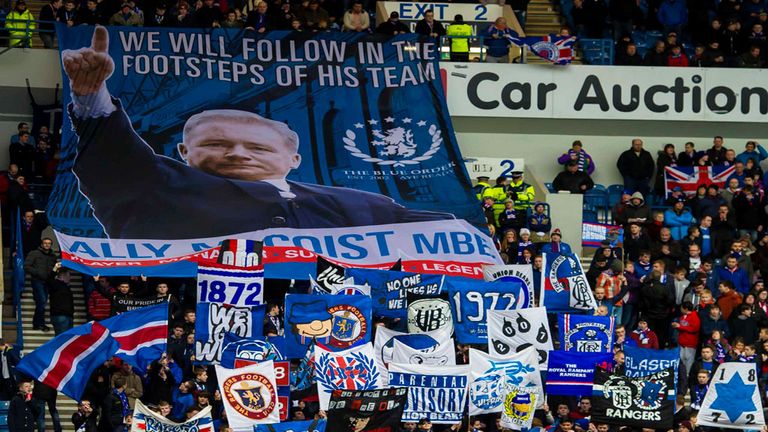 The group now holds over half a million shares in the Ibrox club after purchasing a further 200,000 this week, but the stake amounts to less than one per cent of the total shareholding.
The RST bought £250,000 worth of shares when they were floated in the Stock Market just before Christmas 2012 but came nowhere near preventing former chief executive Charles Green gaining control of the then League Two side.
The shares were priced at 70p when launched but off-field turmoil and reports the club could run out of money before the end of this season has seen them drop as low as 25p.
The RST now holds 557,856 shares after using £52,000 donated by fans using the BuyRangers direct debit scheme to snap up their latest block but Dinnie insists: "There is still a long way to go.
"We started our direct debit scheme just before Christmas. If we can get enough interest going in that then we can buy shares on a monthly basis and build up our stake. We can also borrow against that money coming in and use it to buy more.
"However, the big issue is availability of the shares. With the current price being so low, when you try to buy them on the market, folk are asking for a few pence more. So it's not a case of buying a £1m worth of shares if there is £1m worth of shares available.
"But then again, we don't need to aim for anything like a 50 per cent stake in the club. Because of the fractious nature of the shareholding, a 10 per cent stake could give you a major say in how the club is run.
"James Easdale (a member of the club's board) had just one more share in the club than the RST following the IPO (initial public offering, in December 2012), yet he was appointed to the board.
"If we get to five per cent, we would hold the right to call an AGM, and the things you are able to do increases as your stake goes up from that point.
"We need to take it slow but if we can generate enough interest then hopefully we can then look towards taking our holding past one per cent, then five, then as our stake in the club grows we can think about getting a director onto the board of the club that has been elected by the fans."