SPFL: Rangers fan groups throw weight behind Dave King's proposed takeover
Rangers' main supporters groups have rallied together to issue a vote of no confidence in the current board.
Last Updated: 27/02/14 9:30pm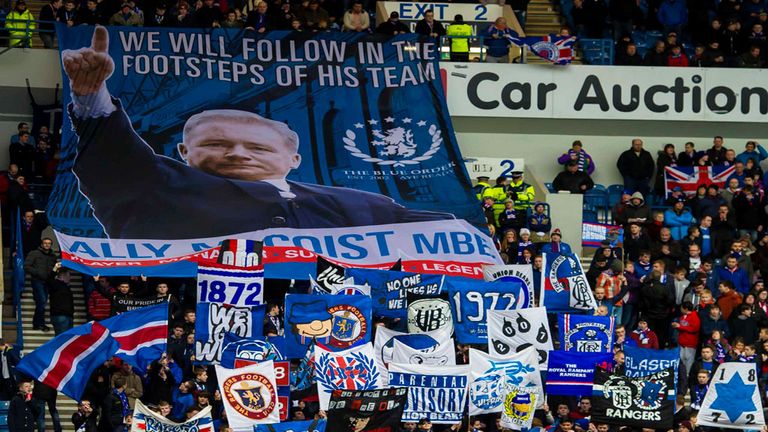 King, who invested £20m of his own money into the club before it was consigned to liquidation in June 2012, is keen to put money into the current League One leaders but not under the present regime.
On Wednesday, he urged supporters to withhold their season-ticket money by placing it in a trust to be handed over to Rangers on a game-by-game basis, rather than a lump sum at the end of this season.
The South Africa-based businessman is sceptical of Rangers' ability to remain a going concern until the end of the season after they were forced to borrow £1.5m of 'working capital' from within Ibrox earlier this week.
And in a joint-statement, the Union of Fans on behalf of the Rangers Supporters Trust, Rangers Supporters Assembly, Rangers Supporters Association, Blue Order, Union Bears and Sons of Struth, said they were 'deeply concerned over the direction the club is being taken'.
It added: "We have no confidence in the current board and would ask Dave King to set up a trust where fans can place our season ticket money to be released to the club on agreed terms.
"We would also ask him to lobby all non-aligned shareholders and form a new shareholders group to challenge the anonymous shareholders behind Blue Pitch Holdings and Margarita, then take control of the board.
"We have already had preliminary and productive discussions with respected figureheads for such a trust and we hope they will now step forward and support Dave King and the fans.
"We would like to make it clear that, like Dave King, we are not suggesting a season ticket boycott. Like all Rangers fans we want to support the club financially as we always have.
"But it has become clear that the board are using our loyalty as a tool for their own ends rather than the benefit of the club. If they will not listen to genuine concerns or involve those with the best interests of the club at heart then they will have to be made to listen.
"We cannot doubt the intentions of one of our own who has previously committed £20m to the club we love."
Rangers later issued a lengthy statement in an effort to persuade fans that action was being taken to fix finances, although there was little in the way of detail about steps being taken or the decision-making process surrounding this week's loan.
Chief executive Graham Wallace hit out strongly at the motives of some of those commenting on the loan arrangement, saying: "Much of the comment and opinion is unfortunately ill informed and directed at undermining the club and the considerable efforts that are taking place to rebuild it following several years of mismanagement.
"Of particular concern are media comments that the club has been offered significant interest-free loans which have been declined. This is wholly untrue and supporters need to know this.
"Further comment about withholding future ticket revenues is also damaging to the operation of the club which, in common with many others, operates on a cyclical basis.
"We know the club will require investment in the future but until we have addressed the problems and deficiencies of the past, it would be foolhardy to seek additional investment without a clear plan of how to use it."