Scottish League One: Ally McCoist disappointed despite Rangers win at East Fife
Rangers boss Ally McCoist admitted he was disappointed with his team's display as they beat East Fife 1-0.
Last Updated: 01/03/14 5:15pm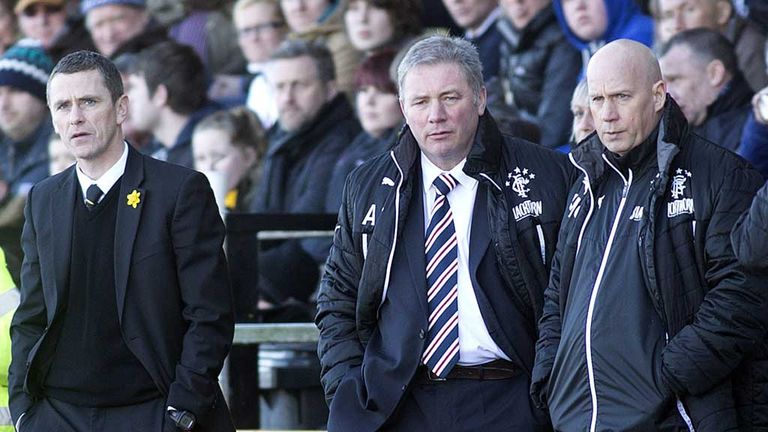 The three points took the League One leaders within two wins of the title but they needed a last-gasp Lee McCulloch penalty to secure the victory after Pat Clark hauled down David Templeton.
McCoist was unhappy with most of his players but insists he would take the same showing in next week's Scottish Cup quarter-final against Albion Rovers if it guaranteed victory.
He said: "I'm a little disappointed and the players are too.
"But results are the most important thing and we kept going to get it. It's another goal in the last minute and the spirit amongst the boys is great.
"But apart from Templeton we lacked a bit of spark. David was the man who was going to do something for us - the one bright light for us.
"You want to play well, you want to pass the ball better, of course you do. But any team who win a title, and I don't care who they are, will go through performances where they feel they can do better.
"The fact the emphasis is being put on our performances is because we have a 21-point lead. If it was neck and neck and we were in another league, with the greatest of respects, nobody would be giving a monkeys.
"That's just where we are at the moment. I understand that. But hopefully we can now kick on and wrap the league up and it would be good to do it in a bit of style.
"But then, I may be contradicting myself here but if you were to offer me the same result next week I'd take it. You only get one bite at cup matches so there isn't the same emphasis on performances."
East Fife boss Gary Naismith said: "It was a very sore way to lose it. I knew we were into the last minute so to lose a goal at that time after how the boys performed is hard to take.
"I'm gutted for them because the effort and commitment they put in was tremendous. We limited Rangers for most of the game.
"But I have no complaints about the penalty decision. It was a clear foul. It's the last minute but a reckless challenge. I think Pat just panicked a little."