Scottish football: Hamilton striker Mickael Antoine-Curier targets Championship title
Hamilton striker Mickael Antoine-Curier is eager to finish the season on a high and clinch promotion automatically.
Last Updated: 21/04/14 11:34am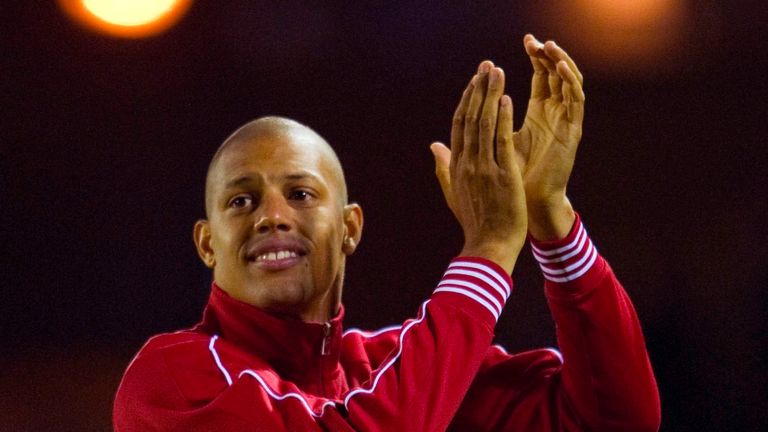 Saturday's 2-1 win over Alloa means the Accies are now a point clear of Dundee in the race to secure a place in next season's Scottish Premiership.
Antoine-Curier has been in fine form at New Douglas Park with three goals in his last six appearances and the experienced marksman does not want to leave their promotion hopes to chance.
The striker has played a key role this term with nine goals and assists as Hamilton look to secure promotion.
"If we want to be champions they are the types of games we need to win," he told Sky Sports after beating Alloa. "There's only one point in it and they (Dundee) have hard games themselves.
"If we can achieve automatic promotion then we can go on holiday sooner!" he joked. "Automatic promotion would be the best for the club. It would be a great achievement.
Touching distance
"We've done well. We had a blip while I was injured, but we're getting back on track and it's important to be within touching distance."
Antoine-Curier, who is in his second spell with Hamilton, is eager to help the club win promotion so that he can play at the highest level in Scotland.
He spent time with English clubs earlier in his career and the French-born striker is not against returning to the country having seen numerous team-mates prosper.
"I'd love to play with the big boys in the SPL. Any true football player gets a buzz from playing against a competitive team and the excitement of a crowd in a televised match," he continued.
"I've also seen some team-mates go down south and do well in League 1 and the Championship and that's something that appeals and that I will also consider. To be linked to clubs elsewhere is flattering, but my focus at the moment is on Hamilton.
"It's important to be ambitious. If you're not ambitious then what's the point of playing football."