Scottish Premiership: Derek Adams delighted with Ross County's 3-2 win at Partick
Derek Adams was delighted as Ross County's 3-2 win at Partick Thistle secured a seventh-placed finish.
Last Updated: 10/05/14 5:02pm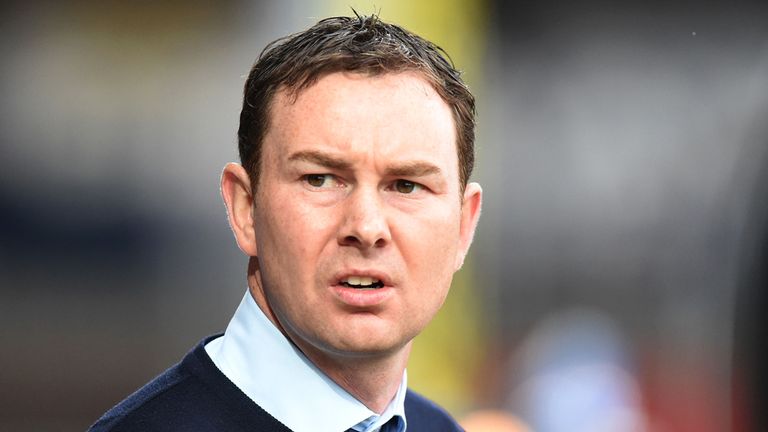 County's second successive victory - sparked by Jordan Slew's first goal for the club - secured a rise in the standings which could be worth up to £200,000 in prize money.
Adams said: "We finished fifth last season and seventh this year so it is a terrific achievement for a side who was only promoted two seasons ago.
"It makes a big difference and people at the club will be happy because the team have made more money for them. They can go on their deckchairs and not worry about it."
Slew, on loan from Blackburn Rovers, scored on the final day of his spell in Scotland and Adams added: "I'm delighted for him because he has been great for us and I always thought he would score for us before the end of the season.
"He has worked hard but it just didn't come off for him but he will go back to Blackburn and I'm delighted with his progress."
Slew added: "I feel fantastic. I'm sad that it didn't come earlier but I am glad to get on the score sheet and more importantly for us to get the win and finish in seventh.
"The league is very physical, very demanding mentally but enjoyable to play in and I wouldn't mind coming to play in this league again."
Thistle started the day in seventh but slipped to 10th after close of play and manager Alan Archibald admitted that the financial impact could be telling.
He said: "I don't know exactly but it won't be far off £200,000 but the other side of the coin is we didn't have it, so we have not lost it.
"It will have an effect, because it may be an extra player, or someone with a bit more quality but we can't dwell on it because we have had a good season.
"If you had offered us the chance to stay up we would have grabbed it without a doubt. "