Luck of the draw?
Ray Wilkins and Charlie Nicholas assess the tests facing the British clubs in the Champions League.
Last Updated: 31/08/12 9:20am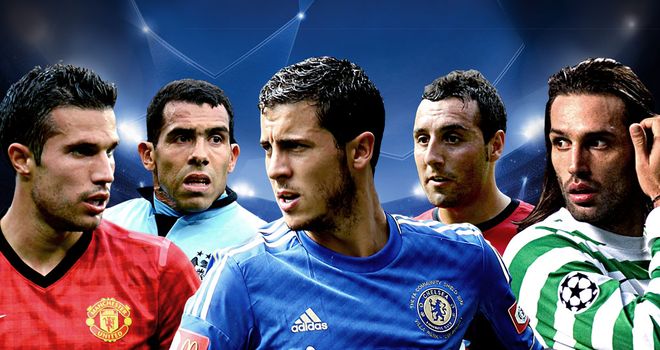 Manchester City
Group opponents: Real Madrid, Ajax, Borussia Dortmund
Charlie says: "A group of champions, this is what it is all about. This is why we are sitting here, this year more than any other, saying not only is it difficult to win it back to back but it is difficult to get through a group. If you got through this group I think you would want the cup. It is that tough. Man City must have been thinking surely it can't happen again, well it is. This is as hard as it ever gets. It is the ultimate test for City. If they can finish above Madrid in the group then they will be thinking they can with this."
Ray says: "Not only is it great for the players, but it is great for the supporters because three finer stadiums you probably won't come across in the Bernbeau, Ajax and then Dortmund as well. The atmospheres are unbelievable so the traveling for the supporters is magnificent. The traveling for the team is good also. You don't want to be going into Russia and the Ukraine. I don't think it is too bad actually and they will have to perform. When you reach the Champions League level, you have to perform."
Arsenal
Group opponents: Schalke, Olympiakos, Montpellier
Charlie says: "It is a very good draw. Schalke has a great atmosphere a bit like Dortmund. They have made silly mistakes before but Arsenal have improved with Steve Bould coaching the defence so that makes me a bit more assured. Montpellier, I don't think are as good as they were last season. I think this is a very good group for Arsenal."
Ray says: "You can't attract the top players unless you are in the Champions League, that is where they want to play. Unfortunately Arsenal have not been victorious in the last few seasons but this is a good draw for them. There is not much traveling for them and I would say they are going to coast through this to be honest. At home they play some wonderful football. They just need to be a bit more clinical going forward and I am sure their season will turn around."
Chelsea
Group opponents: Shakhtar Donetsk, Juventus, FC Nordsjaelland
Ray says: "Shakhtar will be difficult; it is a great stadium but there is a lot of travelling involved, which is not something you really want. Juventus will be a classic game, too, as the Italians were undefeated in Serie A last year and have a new English-style ground that is very compact. But Chelsea have a fantastic squad of players and the club is so used to being in this situation, so I would expect them to top this group."
Charlie says: "I also think Chelsea will progress but it might be difficult. Juventus are desperately trying to get their reputation back, while Shakhtar are a very technical side and Chelsea, who are now more of a passing side, could have problems if it is a cold night [in Ukraine]."
Manchester United
Group opponents: Braga, Galatasaray, CFR Cluj
Ray says: "I hate to say it and I hope Sir Alex doesn't get the hump with me, but this is another hand-picked group that you would expect Manchester United to fly through. Playing Cluj in Transylvania will be different; it is a very sandy, awkward pitch so it will be a difficult game for them, but one you would expect them to win. There will be a fantastic atmosphere in Galatasaray but you would expect United to win in Braga."
Charlie says: "People look at Man United and think they are not as ruthless as they once were - Roma once went to Man United and got battered 7-1 (in 2007). They always used to make a statement and there progression out of the groups was done and dusted in the first four or five games. They've lost that a bit but this is the trophy Ferguson wants and this group gives them to chance to get their Champions League reputation back intact."
Celtic
Group opponents: Barcelona, Benfica, Spartak Moscow
Charlie says: "I think it is a great group. It was never going to be an easy scenario for Celtic. There is a little bit of hope because Benfica they can beat at home and Spartak they can beat at home. They have given Barcelona problems before, although this is a better Barcelona team now than it has ever been - the best side on the planet for me. We don't expect very much away from home but we do expect to have a real go at home no matter who the opposition is. And that is the case here. I think it is a win-win situation for Celtic."
Ray says: "I think this group is one step too far. As Charlie says at Celtic Park they are a tough ordeal for anybody going there. But it is whether you can nick a point away from. Going to Russia, depending on what time of year you go, it can be 15 below. It can be pretty tough but they will be used to that coming from Glasgow."