Football Expert & Columnist
Gers in the dock
Andy Walker says the hearing into Rangers' alleged improper use of EBTs is crucial to the club.
Last Updated: 24/09/12 1:12pm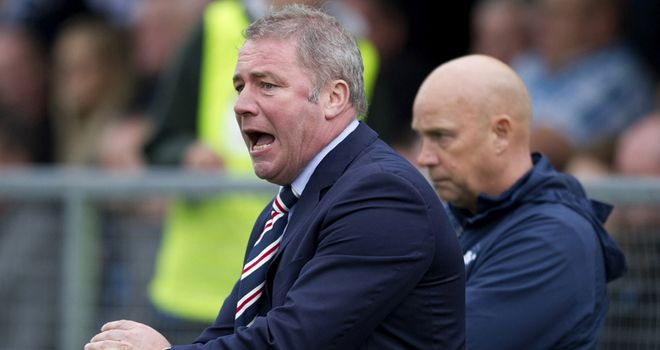 Today on his 50th birthday, boss Ally McCoist has admitted he's "dreadfully weary" of the whole contentious issue of Rangers' alleged improper use of Employment Benefit Trusts for more than a decade. Join the queue.
But with various league titles and cup successes in recent years at stake, it's a topic that couldn't be more serious or emotive. The allegation is that numerous Rangers players were improperly registered and the suspicion dual contracts were in operation.
SPL rules state that all monies paid to players have to be declared. In my view, the SPL have taken the only proper course of action in setting up an independent panel to be chaired by a retired law lord and two QCs. They've been asked to look at all the evidence in front of them and make a reasonable judgement.
And yet Charles Green, the Rangers owner, has already indicated his refusal to attend any hearing on this serious subject on the grounds that there's a "lack of impartiality". The idea that people of that standing can be influenced one way or the other is absurd.
To his credit, Green has fronted a consortium to keep new Rangers alive when others failed to step up to the mark. For what it's worth, I don't think Scottish football made the right decision in banishing Rangers to the Scottish 3rd Division. Of course they had to be punished for deliberately withholding money due to the public purse and numerous other offences. But having one of our biggest clubs in the bottom tier doesn't make sense.
And despite the initial fear of what he and his backers were all about, Green has now rallied the Rangers support with his on-going contempt for the SFA. With the use of some colourful and controversial language, the majority of Rangers fans are right behind him.
Stuttering
On the park, Rangers have made a stuttering and stumbling start to the season. Like Celtic, there's no doubt that eventually, their vastly superior resources will see them win their prospective leagues by a comfortable margin. But the recent embarrassing loss at home to Queen of the South in the Ramsdens Cup proves there's plenty of work to be done.
With a transfer embargo in place now for the next two transfer windows, McCoist has no other option but to get the best out of the players he's got. Most of his squad are on SPL salaries and the real test for them will come in two cup competitions this week.
On Wednesday, SPL league leaders Motherwell travel to Ibrox and this should prove to be a good test for both sides. Motherwell boss Stuart McCall might even regard his men as favourites after scoring three goals in a thrilling 3-3 draw at Aberdeen yesterday.
Desperate
McCoist will be desperate to get one over on an established SPL side and the supporters will be just as keen to progress and get to a Cup final. Then on Saturday, the Rangers fans will make the long trek to Forres Mechanics for the first round of the Scottish Cup campaign.
Their form so far away from home has been dreadful. Draws at Peterhead, Berwick Rangers and Annan Athletic have shown that McCoist's players, a new group of untested youngsters and new signings, have still to show signs that they can take on the best in one-off situations.
The only thing that's guaranteed though is that we'll still be debating the rights and wrongs of where Rangers are, their use of EBT's and alleged dual contracts and Green's ownership for months to come.