Hibernian striker Shefki Kuqi eyes future in management amid Oldham link
Hibernian striker Shefki Kuqi wants to move into management and has his heart set on England.
Last Updated: 15/03/13 4:20pm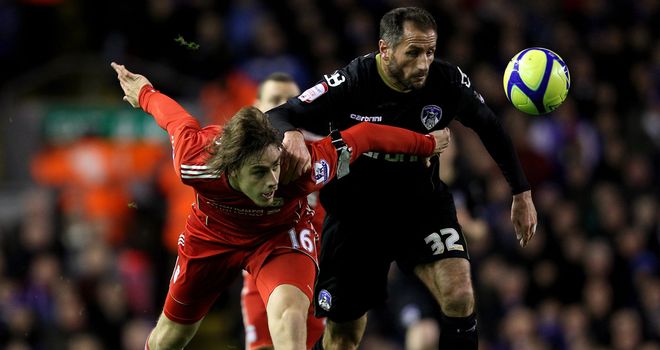 The 36-year-old striker, who has been linked with the vacant manager's job at former club at Oldham, is looking ahead when he quits playing and his love of football means he wants to remain in the game.
The former Finland international is currently taking his coaching badges and believes his wealth of experience from playing means he has a lot to offer in a management role.
"I think in the last five years or so I knew that I wanted to go into management and it is something that I am actively pursuing," Kuqi told Sky Sports.
"I have been going out watching games and trying to learn as many things as I can.
"I think when you are 25, 26 you do not think about going into management or anything, but now I am older I have watched the game more closely and I want to remain in the game because I love it."
Kuqi, who first arrived in England in 2001 when he joined Stockport, has played under a host of managers during a career which has seen him ply his trade for Sheffield Wednesday, Ipswich, Blackburn, Crystal Palace, Fulham, Swansea, Derby, Newcastle, Oldham and now Hibernian.
The Finn has worked with the likes of Roy Hodgson, Brendan Rodgers, Mark Hughes, Alan Pardew, Neil Warnock and Joe Royle during his playing career and he admits he is keen to bring their best qualities into his own style of management.
"Obviously I have been in the UK since 2001 and I have worked under some really good managers and some not so good," added Kuqi.
"I have picked things up from them along the way and I plan to use these things in my own management career.
"All the managers I worked with were different and had their own qualities - Joe Royle was very calm and explained things to players, Mark Hughes the same.
"Brendan Rodgers and Roy Hodgson were very technical and organised and I learned a lot from them and how they set-up their teams.
"Neil Warnock was also great for getting the best out of you as a player and Alan Pardew was very tactically aware.
"I believe nowadays it is all about man-management and being able to deal with players. Football is all about confidence and if you give confidence to a player they will probably run through a brick wall for you. If they don't have confidence, players will not be able to do what you want. At the same time I believe in the importance of discipline and good practice.
"If I was to work for a club I would like to help develop young players and give them their opportunity in the first-team. I think it is vital that young players, at clubs, are given a chance to play and gain valuable experience, rather than to dip into the loan system, where you develop other club' players."
Kuqi admits he will probably hang up his boots to concentrate on coaching when the right opportunity comes along.
"As a player I have always been quite ambitious and I will be the same as a manager and that is why one day I plan to be a manager in the Premier League," he continued.
"Where I will start, I don't know, but I definitely want to manage in England.
"I could go to Finland and start there, but working in England is my goal and I am waiting to see what opportunities come along.
"Obviously it is hard to give up playing football as I love playing, but if the chance to go into management came I would be prepared to hang up my boots."