Sweet Solitude
Jamie Casey documents Cliftonville's treble-chasing season ahead of Saturday's Irish Cup Final
Last Updated: 09/07/13 11:29am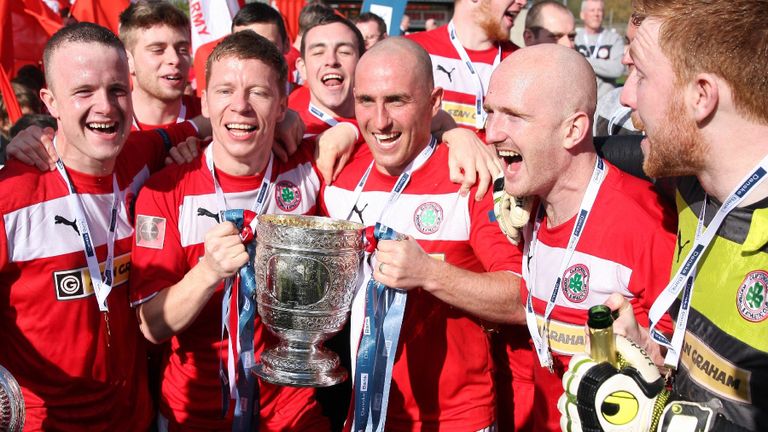 For a club that ventured into a brave new world by making the first managerial dismissal in its 134-year history only two years ago, Cliftonville's rise from the depths of despair to the brink of immortality has been nothing short of miraculous.
Having already lifted only their second Irish League Cup in January, Ireland's oldest football club confirmed their status as 2012-13 Danske Bank Premiership champions with a dramatic 3-2 win over bitter Belfast rivals Linfield earlier this month.
Last Saturday the club were presented with the league trophy, also known as the Gibson Cup, for only the fourth time in their history - one of which was shared - and the first time since 1998 after rounding off their Premiership campaign with a 2-1 win over Ballinamallard United.
Smashing the 90-point barrier and finishing up with a positive goal difference of 57 over 38 games, Cliftonville were eight points and 16 goals better off than their nearest contenders Crusaders. Domestically, there's been no stopping the Reds.
Not that it would sufficiently sour a superb season, but only one team stands in the way of a first domestic treble for the north Belfast outfit - Glentoran, ironically managed by Eddie Patterson, the aforementioned soul with the indignity of being Cliftonville's only ever managerial casualty.
This Saturday's Irish Cup final will see north Belfast meet east in the city's southern-based international stadium Windsor Park, with easterners Glentoran still considered one half of the 'big two' alongside the usually dominant Linfield, despite the clubs finishing this season in fourth and third place respectively.
For Cliftonville, it's been a long, painful journey back to the top, and this time the biggest challenge is to stay there, as the last time the club won the title they followed it up by finishing second from bottom the following season, only escaping the drop via a nervy relegation playoff victory.
The Reds hovered around the bottom third for five consecutive years and it was only in 2004 that their fortunes took an upturn upon the arrival of Liam Beckett, a manager who brought with him a reputation for performing rescuing acts, evident in his previous work with Ballymoney United and Moyola Park.
Long-serving midfielder George 'Geordie' McMullan, who has covered at right-back for much of the season, cites Beckett as the man who changed the club's fortunes. "To be fair, Liam Beckett brought a different ethos to the club," he told the Irish News.
"There was more of a team spirit (after Beckett arrived), players went for a few pints after the games and there was more togetherness," added the 31-year-old semi professional.
Whilst Beckett re-installed an old school culture back into the dressing room, it took greater tactical astute to take the Reds a step further on the road to recovery. After Beckett walked, his former assistant and reserve team coach Patterson inherited the reins and provided six years of steady progress.
"Eddie came in and we just kicked on," continued McMullan, who scored the winning goal from the penalty spot against Linfield which sealed the title. "We kept creeping up the table and we signed better players and you just knew things would get better."
Renowned for putting faith in the man in the hot seat, the club's decision to relieve Patterson of his duties in April 2011 came as a shock to the Irish Premiership, but, having re-established himself as one of the division's best managers at Glentoran, Patterson insists he holds not even the slightest of grudges against the club he turned out for as a player.
In hindsight, it proved a shrewd move by the Cliftonville board, which is largely made up of members of the Protestant community despite the club's largely Catholic following, as Patterson's replacement and former assistant Tommy Breslin continued the trend of being promoted from within and taking the side to the next level.
Romantically, the large majority of Breslin's squad hails from Belfast and the likes of Marc Smyth (Ayr United, Partick Thistle and Airdrie United) and Martin Donnelly (Sheffield United and Rochdale) have experience of plying their trade at a higher level overseas, but none more glamorous than this season's top scorer, Liam Boyce.
In his first full season back at Solitude after failing to break into the first team at Bundesliga mainstays Werder Bremen, Boyce picked up where he left off in his hometown, to date scoring 36 goals in a single campaign, breaking an 81-year-old club record previously held by Norman McCaw.
"It's nice to have that wee bit of history for myself, especially because I know Cliftonville have had plenty of quality players over the years," Boyce told the club's official website.
Indeed they have, and Boyce will no doubt have been referring to fellow striker Chris Scannell, the 35-year-old club captain who spent the whole season out through injury, before Breslin handed him an honouree five-minute cameo on the last day of the league season, allowing him to jointly lift the trophy with McMullan.
But it's not only Boyce's Bremen history that links Cliftonville to German football.
Borussia Dortmund chief executive Hans-Joachim Watzke recently stated: "Germans want to have that sense of belonging. In Germany, we want everybody to feel it is their club, and that is really important. Our people come to the stadium like they are going to their family. Here, the supporters say: 'it's ours, it's my club'."
In the words of Breslin, Cliftonville "is a supporters' club." Turnstiles operated by trusted match-goers, fixture posters willingly plastered all over north Belfast and half-time money-raising raffles are all weekly chores voluntarily assumed by the community. Cliftonville is a club kept afloat by a pure love of the game.
They'll make their first Champions League appearance in 15 years this summer as they've earned the right to enter the competition at the Second Qualifying Round stage, with fans from both sets of supporters dreaming of a tie with Scottish champions Celtic.
Whatever the outcome of Saturday's cup final, long may Cliftonville reap the rewards of a commendable campaign.