Pochettino's plans
With Southampton completing the signing of Victor Wanyama from Celtic, Adam Bate believes it provides a revealing insight into Mauricio Pochettino's priorities for the forthcoming Premier League season.
Last Updated: 13/07/13 11:42am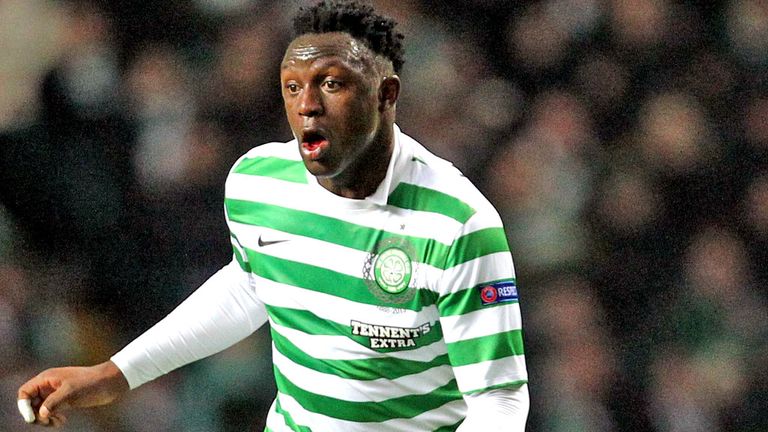 The £12.5million record signing of Victor Wanyama from Celtic has been widely heralded as a signal of intent by Southampton. But perhaps the most revealing aspect of the purchase is the area of the field in which manager Mauricio Pochettino has opted to strengthen. While others may have looked to use such funds to add goals or cut out defensive errors, the Argentine has chosen to throw money at what is arguably Saints' strongest area. But for Pochettino, midfield is the key.
The 41-year-old Southampton boss has long been styled as a disciple of the iconic Marcelo Bielsa, the former Athletic Bilbao coach who has gained a reputation as a singular thinker of the modern game. "He is like a second father," said Pochettino. "Sometimes, I see the mark of Marcelo in things I do." And perhaps the most obvious influence of Bielsa can be seen in his commitment to the extreme pressing with which his compatriot has become synonymous.
"They all run up and they all run down again," observed Pep Guardiola, another shameless fan of Bielsa, when musing on his adversary's Athletic team. "Up, down, up, down, up, down. They're fascinating." The objective of the tactic is to disrupt the opposition and ensure the ball is won back as quickly as possible by exerting maximum pressure. It has become an important aspect of Pochettino's teams and although a record of four wins, seven draws and five defeats in his St Mary's reign does not represent a significant improvement upon the work of his predecessor Nigel Adkins, the effects of that style can be seen.
The most striking statistic of Pochettino's spell in charge relates to possession - or rather the restriction of it. In all 16 games that Pochettino has presided over at Southampton, his team has ensured that their opponents enjoyed a below-average level of possession in the contest. While Chelsea and Tottenham did manage to achieve this for 10-game sequences, no team in the Premier League could come close to such a remarkable run. Indeed, in the top-five European leagues, only three sides managed to better it - including, of course, Bielsa's boys in Bilbao.
The fact that denying opponents the possession of the ball they are used to is such a central tenet of Pochettino's system goes some way to explaining the decision to splurge on Wanyama. The Kenyan midfielder is a powerful and combative figure who can help implement the strategy. "We are a big admirer of his talents and he will fit in well to the team here at Southampton," said Pochettino. "I've watched him perform at the top level in the Champions League, and I believe that he will be a valuable addition to our Premier League squad for the season ahead."
Tackles (midfielders) - Champions League 2012/13
Player
Team
Tackles per game
Massimo Ambrosini
AC Milan
5.8
Riccardo Montolivo
AC Milan
5.0
Arturo Vidal
Juventus
4.9
Jeremy Toulalan
Malaga
4.3
Manuel Iturra
Malaga
4.3
Victor Wanyama
Celtic
4.0
It is unsurprising that Pochettino cites Wanyama's Champions League displays as part of the reason for his interest. The 22-year-old's role in Celtic's celebrated group stage triumph over Barcelona was hard to miss - not least because the midfielder scored the opening goal of the game. And while Celtic's run to the knockout rounds came to an end against Juventus, it was the Italian side's playmaker Andrea Pirlo who neatly summed up the qualities of his fellow midfielder.
Discussing potential match-winners ahead of the tie, Pirlo said: "I look at Celtic and the player you think could do that for them is Victor Wanyama. He is so young, but already he has proved himself to be a big-game player. His performance in the win over Barcelona was exceptional. He is big and can be a presence in the middle with his tackling. But there is also a calmness about Wanyama where he plays the right pass and does the simple things well under pressure. He has the attributes of a young Patrick Vieira. You can see why big European clubs have shown an interest in him."
The ability to tackle and pass means Wanyama is well-placed to compete with both Morgan Schneiderlin and Jack Cork for a role in the Southampton midfield. The Schneiderlin-Cork partnership was a feature of Saints' season with the Frenchman foraging for the ball further forwards, while his team-mate provided a second line of protection in a slightly deeper role in front of the back four. Schneiderlin's more proactive approach is illustrated by the well-documented statistic that the 23-year-old midfielder made more tackles and more interceptions than any Premier League player last season.
Tackles & Interceptions - PL 2012/13
Player
Tackles won
Player
Interceptions
Morgan Schneiderlin
108
Morgan Schneiderlin
139
Claudio Yacob
90
Matthew Lowton
111
Lucas Leiva
90
Ashley Williams
110
Schneiderlin's success in this role went some way to ensuring that only Brendan Rodgers' Liverpool team recovered the ball as many times as Southampton last season. Already among the best teams in the division in this regard, Pochettino prompted a 10 per cent increase in recoveries following his January arrival.
While Schneiderlin took most of the plaudits, the importance of Cork should be emphasised too. Both men ranked among the top 10 midfielders in the country for recovering the ball, but it is worth noting that during Pochettino's time in charge at Southampton it was Cork not his team-mate who achieved more recoveries than any other outfield player in the Premier League.
Recoveries - PL 2012/13 (since Pochettino's arrival)
Player
Team
Recoveries
Jack Cork
Southampton
135
Santi Cazorla
Arsenal
127
Morgan Schneiderlin
Southampton
123
Cork's importance to Southampton is further emphasised by the alarming start to the campaign in his absence that saw the team lose eight of their first 10 top-flight matches prior to his return to fitness. Supporters could be forgiven for being reticent to celebrate the expensive acquisition of a player who could be asked to disrupt what is surely one of the more effective examples of Anglo-French relations.
But the question of whether or not Wanyama will represent a significant upgrade of the Southampton midfield is perhaps of secondary importance in Pochettino's quest to make life difficult for the opposition. The Southampton boss knows he will be asking a lot of his midfielders in the forthcoming season and is likely to have noted those results in Cork's absence. Far more than a record buy, the signing of Victor Wanyama provides an intriguing insight into Pochettino's priorities.