Football Expert & Columnist
Champions League: Exit to Maribor shows Celtic have fallen in stature, says Andy Walker
Boss Deila not backed by board with signings
Last Updated: 27/08/14 12:20pm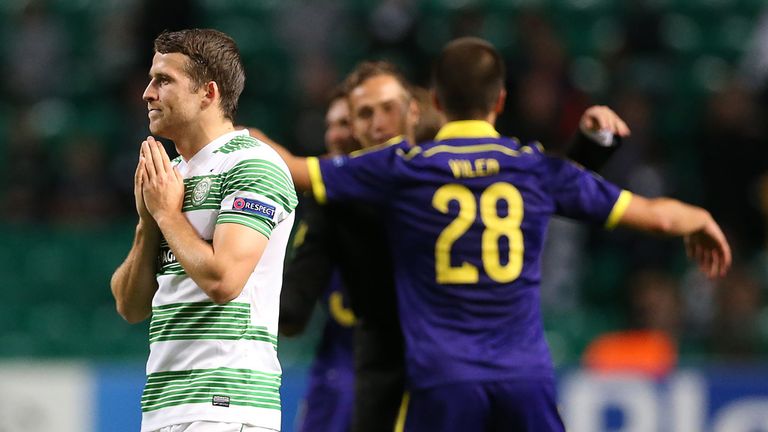 'Humiliated' Celtic have fallen in stature and have made too many mistakes in the transfer market, says Andy Walker.
The Scottish Premiership title holders were knocked out the Champions League qualifiers 2-1 on aggregate by Slovenian side NK Maribor, after losing the second leg 1-0 at Celtic Park. 
The defeat means Celtic will not be in the group stages of Europe's elite club competition for the first time in three years.
When you're going to Norway to appoint someone like Ronny Deila I think it tells you where the club is at.
Andy Walker
Former Celtic forward Walker told Sky Sports News HQ's The Morning View that the Glasgow side deserve to be in the Champions League - but have long since fallen from the level they achieved under managers of the past.
"There's no escaping criticism when you're the Celtic manager but I have to say I think the club has fallen in stature," said Walker.
"When you're going to Norway to appoint someone like Ronny Deila I think it tells you where the club is at. This is a club that used to be able to go and get Martin O'Neill, Gordon Strachan and Tony Mowbray, when he was in the Premier League. Neil Lennon was also a success, albeit a big gamble.
"Ronnie Deila in his chat last night admitted that they got what they deserved. They've lost to the Polish champions Legia Warsaw – humiliated by them - and now they've lost to Maribor from Slovenia."
Selling club
Walker also criticised Celtic's recruitment policy, saying the 'selling club' hasn't backed manager Ronnie Deila with signings since he took over this summer.
Celtic have spent approximately £5.6million on players over the past two seasons, while raising around £30million through the sale of big stars including Gary Hooper, Fraser Forster and Victor Wanyama.
"It's really depressing that Celtic didn't make a really strong case for their manager," added Walker.
"They didn't back him with the signing of players. They consistently lose their best players and it's a huge disappointment for the supporters. It's a real kick in the teeth for them.
"Celtic right now are very much a selling club and if they get a semi-decent offer for [Virgil] van Dijk I think they're more than prepared to sell him. They know, despite the disappointment of last night and dropping into the Europa League, they still have a squad that is strong enough to win a league title.
"I just hope they make better provisions as they move into this season and with the transfer window in January – I hope they make provisions to try and get into the Champions League next season because that is where the club belong."
Pedigree 
"They're now bringing players in from every corner of the globe. There's a certain market that they look at and they're not prepared to pay any serious money for anyone with a bit of pedigree and I think that's the thing that frustrates Celtic fans most.
"This is a club, that even without Rangers in the league, should be looking after their own and being strong, building slowly but surely and getting players in of quality.
"When you see the amount of mistakes they've made in the transfer market – Amido Balde, Efrain Juarez - and the loan system they use continually, they ignore all the Scottish talent, the likes of Johnny Russell who goes to Derby and Andy Robertson who goes to Dundee United and then Hull.
"They're ignoring the market that's right on their doorstep."