Celtic boss Brendan Rodgers: Borussia Monchengladbach will be as tough as Man City
By Jefferson Lake
Last Updated: 18/10/16 6:43pm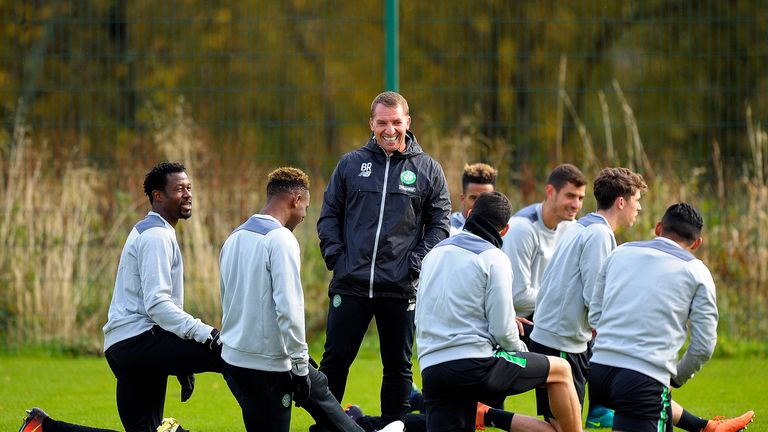 Brendan Rodgers believes Borussia Monchengladbach will be just as difficult an opponent as Manchester City for his Celtic side.
The Scottish champions drew 3-3 with City in a thrilling game at Parkhead last month to claim their first Champions League point of the season.
City beat Gladbach 4-0 in their first group game but Rodgers does not feel his team will stroll to an easy win over the German side.
"The Manchester City match will give the team confidence but every game at this level is tough in a different way," he told Celtic's club website.
"This will be a very good side we are playing against. It's certainly not the case of Manchester City being up there and we should then steamroller Borussia Monchengladbach - not at all. This will be an equally tough game in a different type of way.
"They have done very well and it shows the level they have been at in order to qualify for the Champions League. They play a 3-4-3 system: a back-three, four flat midfielders and then they alternate how they work up front - it will either be two in behind or one behind and two up top.
"Again, it will be another test for us. Like all teams at this level they will have technically-gifted players, and tactically, they will have a good idea of the team and they will have speed."
Rodgers accepts that Celtic are the underdogs in Group C but is confident his team can impose themselves on their European opponents.
"For us, like in all our games, we need to impose our style and see how they cope with us," he explained. "We will be prepared to cope with them. We have to do that in the best way we possibly can but we also have to put our style and aggression into the game and see where it takes us."
You can watch Chelsea v Man Utd, plus England's tour of Bangladesh and the US Grand Prix on Sky Sports. Upgrade now and enjoy six months at half price!