Scott Brown ready to make Celtic history as Hoops hit new heights
By Charles Paterson
Last Updated: 18/03/17 6:08pm
Celtic are closing in on a sixth consecutive Scottish Premiership title and could yet set a new record with an unbeaten season. Scott Brown tells us how the Hoops are hitting new heights.
When Scott Brown isn't talking football, he's enthusiastically waxing lyrical about golf. "Did you see McIlroy drive it 386 yards the other day? You'd take 286, eh?"
Then it's on to his success at Cheltenham, to which some of the Celtic squad paid a visit earlier this week on a day off. "Two tips came in at 40-1. And I don't usually bet!"
Brown's bubbly, and at times tempestuous character, has dominated Celtic since 2007. This summer he marks a decade since his arrival from Hibernian, where he won the League Cup in his final season. Interestingly, he thinks that 5-1 triumph over Kilmarnock - exactly 10 years ago today at a snowy Hampden - was the drive behind his success since.
"I enjoyed every single moment of winning that cup, and I think that was what made me want to move to Celtic", says Brown.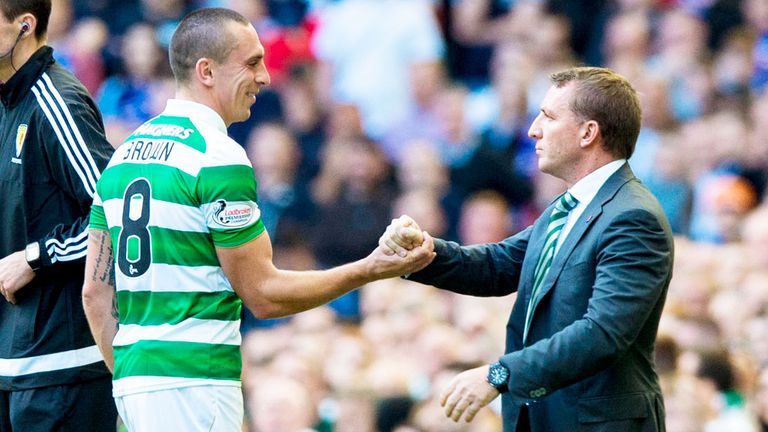 "That little bit of success; you saw the fans on the streets on the open-top bus - then you come to Celtic and you win leagues, you win doubles and you put smiles on people's faces, and people appreciate you playing for 10 years at the same club.
"I can't believe I'm still here and everyone here is still dealing with me! It doesn't happen that often now. I think it's down to this club and everyone about it, it's a fantastic place to be and to play football."
Brown has polarised opinion in the intervening years since. From being tipped for greatness as English Premier League clubs chased his signature, to being branded immature after red cards in Old Firm and Champions' League games; from captaining his country, to being written off and branded unfit. Brown has seen and heard it all, but the scrutiny concerns him little. What he does think, however, is that he's changed as a player.
"My hair has stayed the same. I grew it for a wee bit but that was about it," he says. "I think I've matured into playing a holding midfield role.
"When I came here under Gordon (Strachan), I wanted to run about and tackle, and in big Champions' League games I always played out on the right because I probably wasn't trusted in the middle of the park. Now I'm more settled to playing the game in the middle, I understand the game a lot more.
"I think I can play another three, four, five years easily, as long as I look after myself, and stay injury free. Last season I was injured and still trying to play through games just to get us over the winning line in the league. As soon as I got six or seven weeks off in the summer I felt recharged and started enjoying football again."
This season Celtic supporters are certainly enjoying the football that their team has produced. In 35 domestic games, Celtic have won 33, and drawn two. An unbeaten league campaign is now a very real prospect. The Brendan Rodgers impact has been all-encompassing.
"I think we've pushed on a lot this year," says Brown. "We've brought in a good couple of players, Moussa (Dembele) and Scotty (Sinclair), they're doing really well and they've pushed everyone on. We've got a new manager in place and he's brought a new philosophy about the way he wants to play.
"This time last year Aberdeen were right beside us, they had the chance to go three points in front, and luckily for us they didn't. This season, it shows our winning mentality and the way we've been playing. The fans are back at Celtic Park, it's filled up week in, week out."
Celtic's unprecedented march on statistical history comes, it is argued, with a caveat. The accusations from certain pundits - most notably in England - that the league is weak and getting weaker, and that the champions-elect have no real opposition, is strongly refuted by Brown.
"For people to slaughter Scottish football, obviously they haven't been here in the last season and come up and watched games," he said.
"Going away to Kilmarnock for example; it's always hard when people are defending, but they do what they need to do to put points on the board, as do teams down the road like Bournemouth and others like that. It's a little bit disrespectful coming from people that don't even know anything about Scottish football.
"I wouldn't say the other Scottish Premiership teams have declined; I'd say it's more us improving. I'm sure if we got the £90m that everyone in the English Premier League got, we'd keep improving every year, and so would every SPFL team. But it's not to be."
Next season, Celtic's biggest challenge is likely, again, to come in Europe. Only if Rodgers' team negotiates the Champions League qualifying rounds and group stages, can they be compared to Strachan's 2007 vintage which Brown joined; that side ran Barcelona close in the last 16.
"When I first came in it was a big shock. My first game in the group stage we were 3-0 down at half-time to Shakhtar Donetsk, so for us to get into the last 16, it shows you we had top-quality players.
"We had a lot of winners and a lot of Scottish players there as well, and it was more about the team mentality and the manager and us being organised, being as fit as we possibly could be.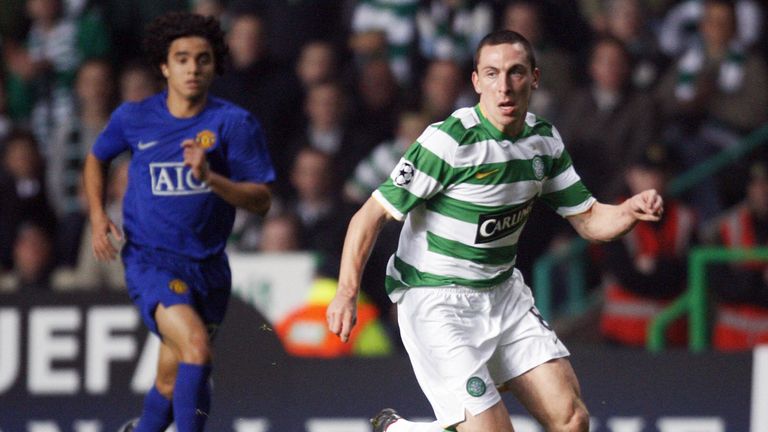 "This manager is the same as what Gordon was. Don't get me wrong, there's 10 years' difference in it, but this is a great team, it's a great bunch of lads, and I think that's why we're enjoying playing.
"I think this team could be as good as any team coming through here since I played. We're fit, we're strong, we've got talented players and we've got a great manager as well so I think if we can hold everyone together for another season or two, we can give it a real good push and see where we can go.
Celtic will have to wait at least a fortnight to clinch their sixth consecutive title after Aberdeen beat Hearts on Saturday but, whenever it happens, Celtic's captain will cherish it as much as the previous five.
"Anyone can take it for granted and winning trophies here comes as second nature, but you need to make sure you continue that because one of these days it's going to stop and you're going to retire. You need to make sure you remember these because it's fantastic times.
"To win six in a row and continue that as long as we possibly can, it's what I came here to do. Sunday would be just as special, it just keeps that medal collection growing."
Sky Customers can now upgrade to Sky Sports and get 12 months for just £18 per month. Upgrade now!