Lennon spurred on by memories
Neil Lennon has urged his players to take the pain of last season's League Cup final defeat against Rangers and use it as motivation.
Last Updated: 17/03/12 1:52pm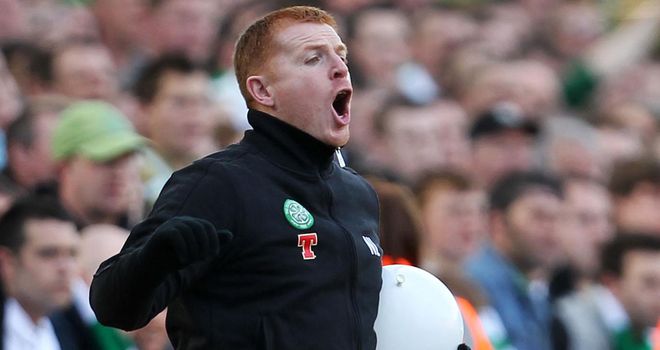 Neil Lennon has urged his Celtic players to take the pain of last season's League Cup final defeat against Rangers and use it as motivation to make sure they get the right result on Sunday.
The Hoops went down 2-1 to their Old Firm rivals in extra time at Hampden Park in 2011 which prevented them ultimately winning a cup double.
Celtic are strong favourites to make amends against Kilmarnock this year to take the first trophy of a possible treble and the Parkhead boss wants his players to use last season's disappointment to spur them on.
"I can use a lot of games to motivate the players, none more so than the cup final this time last year," he said.
"I think that will be a motivation itself.
"But we have our own reasons for winning the cup and hopefully the players will concentrate on that.
"Kilmarnock are a good team and Kenny (Shiels) has done remarkably well given some of the players they lost from last season.
"I thought he might struggle with (former manager) Mixu Paatelainen leaving and the way they finished the season but they haven't at all, they have actually improved.
"They are in a decent position in the league and they are in a cup final so a lot of credit must go to Kenny and (assistant) Jimmy Nicholl for that."
Hardest tasks
Lennon is ready for one of the hardest tasks of any football manager; picking a cup final team.
The former Celtic captain was keeping his line-up close to his chest but he knows that with only five substitutes allowed even more players than usual are going to be left disappointed.
"Unlike the SPL games, we only have five substitutes instead of seven so there will be two berths that won't be there," he said.
"The majority of the team picks itself and the rest will probably be a little bit of a tactical selection more than anything else.
"There will be players disappointed that they won't be starting the game but the team that starts won't necessarily be the team that ends the game."
The Irishman has left nothing to chance, revealing that his players have been practising penalties in case the match goes all the way.
"They were practising on Friday but we are hoping it doesn't go to that," he said.
"If it does the players will be well prepared for it but it's all on that moment and how they are feeling themselves - I'm glad I won't be in that position myself."