Gary's got it
Gary Hooper deserves an England call-up after his Champions League heroics, says Andy Walker.
Last Updated: 03/10/12 11:55am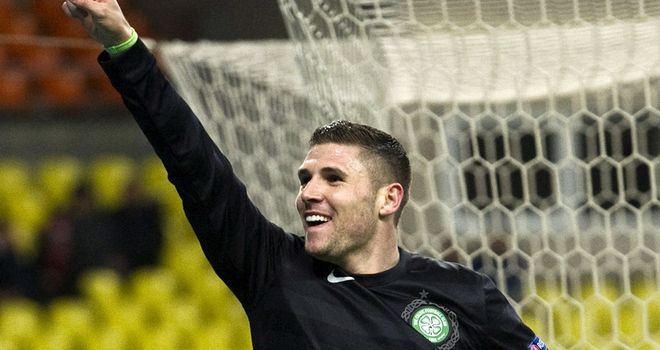 Andy Walker says Gary Hooper deserves an England call-up after his heroics in Moscow helped Celtic secure their first ever Champions League group stage away win.
Hooper's first half strike put Celtic ahead and after Spartak had struck back with a double from Emmanuel Emenike, Hooper was brought down by Juan Insaurralde. Insaurralde was sent off and Hooper played a key part in Celtic's leveler, an own goal from Dmitri Kombarov, before Georgios Samaras' header won it for the visitors.
"Gary Hooper is definitely worth a look for England," Andy Walker told Sky Sports News.
"His game is at top form at the moment. His all-round game is impressive, not just his goals scoring. He can hold the ball up, he's got a fair bit of pace and, as we saw with the first goal last night, he's got a poacher's instinct for getting on the end of some terrific crosses and finishing with one touch.
"He was also involved in the incident that led to Spartak Moscow going down to ten men, no doubt he would have gone through and got a shot away, but Insaurralde brought him down.
"I thought his overall game was terrific. I was at the game last week against Raith Rovers when he scored four goals, he scored against Motherwell at the weekend and, although English observers have not always regarded scoring in the Scottish league as a great feat - even the likes of Chris Sutton struggled with that - when you look at England now and look for someone to step forward, Gary Hooper is worth a look."
Optimistic
Walker is also optimistic Celtic can now progress from Group G, along with Spanish giants Barcelona.
"This result was so unexpected because we're so used to seeing Celtic fail away from home," said Walker. "We saw a level of maturity in their performance last night that was so surprising but so welcome. Celtic now have a real chance of finishing in the top two and getting through to the knockout stages. That would be a remarkable achievement for Neil Lennon and his players.
"Celtic won't get a great deal of plaudits for winning the SPL this season because Rangers are not in the league. Eventually Celtic's resources will see them win the SPL title by quite some distance. But this is different; this was against some of the best players in Europe.
"We have to remember Celtic were fourth seeds going into this group. They had already drawn at home with Benfica, which meant they had to get something from last night. They now go home and away against Barcelona - but don't write them off at Celtic Park. It will be a wonderful occasion and a special atmosphere.
"But they're now in the running with Benfica and Spartak for second place and last night they gave themselves a terrific opportunity."