Jordi Alba and Javier Mascherano says Barcelona deserved to beat Celtic
Jordi Alba and Javier Mascherano felt justice was done after Barcelona grabbed a last-gasp winner against Celtic.
Last Updated: 24/10/12 11:27am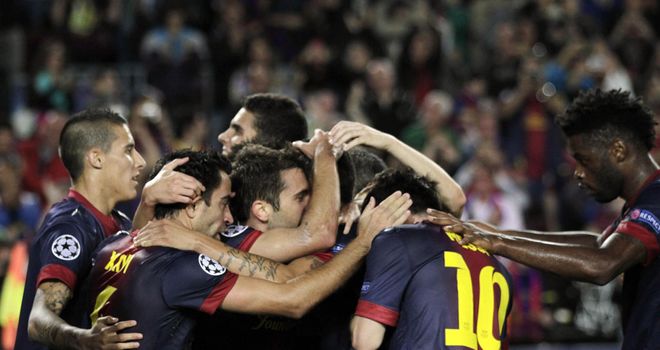 Celtic's disciplined performance at the Nou Camp looked set to earn the Scottish champions a famous 1-1 draw after Mascherano's own goal had been cancelled out by Andres Iniesta's equaliser before half-time.
However, in the fourth minute of added time, Alba stole in at the far post to divert in Adriano's cross and give Barca a 2-1 victory.
Alba said: "This team has shown that even in the last minute you can win a game. It is a well-deserved victory.
"We hope we can experience more nights like this. We're pleased to have won nine points, hopefully we can keep our run alive."
Barcelona defender Mascherano, who inadvertently deflected the ball past his own goalkeeper Victor Valdes to give Celtic an 18th-minute lead, echoed his team-mate's thoughts.
"I think that justice was done. If you see the 11 or 12 chances we had against the one they had, justice was done," he added on the club's official website.
"The team never tires of going forward, we could have thrown in the towel but we've gone for it until the end.
"This season has been showing us that the match isn't over until the final whistle. It's not the first time that's happened to us."
Iniesta, who scored Barca's equaliser on the stroke of half-time, commented: "It would've been unjust not to have won.
"After they scored they didn't leave much space and it was very difficult. (But) we kept faith that we would get that goal. It could have happened earlier, but the game isn't over until the final whistle.
"The objective was to win nine points, our position in the group couldn't be better."