Celtic striker Tony Watt hails the win over Barcelona as the best moment of his career
Celtic hero Tony Watt admitted his goal in the win over Barcelona was the best moment of his career to date.
Last Updated: 08/11/12 6:56am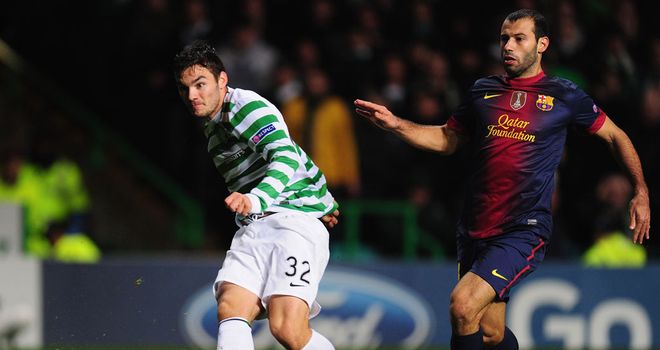 The 18-year-old came off the bench to grab Celtic's crucial second goal seven minutes from time to add to Victor Wanyama's first half opener with Lionel Messi's stoppage time strike coming too late for Barcelona.
Watt admitted the victory over the Spanish giants had yet to sink it after Neil Lennon's side recorded one of the best results in their history.
Asked if the result had sunk in yet, Watt told Sky Sports HD2: "Not yet, it will take a couple of hours. "I just saw Valdes and tried to put it in the corner and I just put it to the side of him and I couldn't believe it when it went it.
"It is probably the best moment of my life and when I look back at it when I am older and just think I have just beaten Barcelona in the Champions League - there is nothing better is there."
Fraser Forster, who was in inspired form in goal for Celtic, believes everyone played their part in a famous win for the Scottish champions.
"We have got a fantastic squad of players and whoever comes in will do tremendous for us and we really showed in the Nou Camp what we could do and we just couldn't see it through and even with injuries we have got a fantastic squad," said Forster.
"Everyone was tremendous and everyone played their part tonight and I think we deserved it in the end.