Neil Lennon admits Celtic win over Barcelona one of proudest moments of career
Celtic boss Neil Lennon admitted the Champions League win over Barcelona was one of the proudest nights of his career.
Last Updated: 08/11/12 3:15pm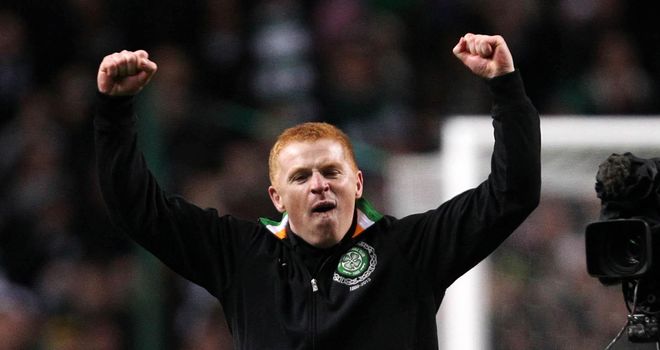 Lennon's side wrote their names into the history books with their momentous 2-1 win over the Spanish giants at a buoyant Celtic Park.
Lennon hailed his side's achievement in beating what he feels are the best team in the world.
"It is right up there, one of the proudest nights of my career," Lennon told Sky Sports HD2. "It's just a monumental effort from those players tonight on the anniversary of the club.
"It is a very special occasion to do themselves justice tonight and they've just beaten the best team in the world. It is two of the stiffest examinations they will ever get in their careers and they've come through it with flying colours."
Lennon admitted they pinpointed Barcelona's weakness at set-pieces with their first goal coming from a corner as Victor Wanyama netted from Charlie Mulgrew's cross.
"We felt we could affect them at corners, we knew the back post area with Alba they mark zonal and we knew we could threaten that," he added.
"Charlie Mulgrew is one of the best dead ball players around and his delivery was magnificent and Wanyama, who just keeps getting better and better, scores a great goal for us and then you try and weather the storm and you know it's coming and there is not a lot you can do about it but we saw it through.
"Young Tony [Watt] comes on and a few of them are dying on their feet as they've given everything and [Watt] gives us a new lease of life and scores a brilliant second goal and it is going to go down in the history books of the club.
"It's fantastic, I'm so pleased as we've waited a long time to get back into this competition. The club has been a wee bit in the doldrums; I am not saying this is the pinnacle because I think there is more to come from this team you know the progression is great."
Lennon believes the win gives them a real opportunity of reaching the knockout stages with Celtic in second place behind Barca and three points clear of Benfica.
"It gives us a great chance," added Lennon. "Benfica beat Spartak [Moscow] so they are still on our tails so we got to go to Benfica and try raise our game again and we will cross that bridge when we come to it and we will enjoy the evening and the moment."
Lennon admitted the atmosphere at Parkhead was one of the best he has ever experienced during his time at the club.
"These are special nights here and when I took the job on I said I wanted to bring the thunder back and I have never seen the atmosphere as good as that," concluded Lennon.