Victor Wanyama thrilled by Celtic's UEFA Champions League win over Barcelona
Victor Wanyama has revealed Celtic worked on set-pieces to score against Barcelona after their win over the Spaniards.
Last Updated: 08/11/12 1:43pm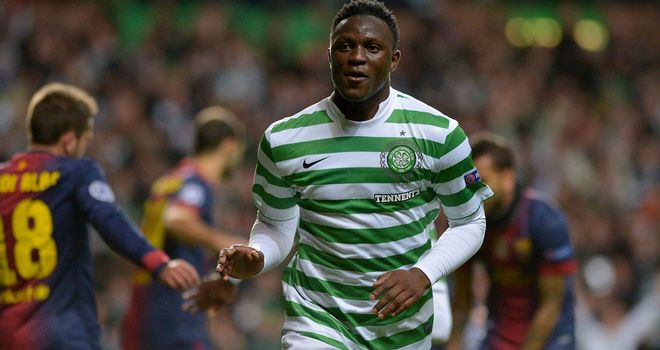 Wanyama scored the opening goal from a corner as the Scottish champions recorded one of the best results in their history with a 2-1 win over Barcelona at Celtic Park.
Substitute Tony Watt netted a second before Lionel Messi netted a late consolation for Barcelona, but Celtic held on for an impressive scalp.
Wanyama, who impressed throughout against Barcelona, was thrilled with the victory and felt their hard work with set-pieces paid off with his opening goal.
"This is unbelievable," Wanyama told Sky Sports 2HD. "Today we just worked hard, we were good as a team, compact and got the three points.
"We're very happy. I can't describe it - we're very, very glad. It's unreal. We beat one of the best teams in the world. It was not easy and we're just happy.
"It's always important when you're playing this team to keep the ball and today we were very good, calm with the ball. That kept us in the game - we were good on the ball and believed in ourselves. We got the first goal, which was very important and gave us energy to go on.
"We've been working hard at set pieces and knew we'd get one. We did it well. I'm happy for the team, we did well."
The win maintains Celtic's spot in second in Group G with a real chance of reaching the last 16, but Wanyama is refusing to get carried away.
"It's too early [to say if we'll qualify for the knockout stage], we just need to keep doing the same," added Wanyama. "If we do the same and get results, we're going to be there."