Joe Ledley admits Celtic Champions League win over Barcelona yet to sink in
Joe Ledley says Celtic's victory over Barcelona has yet to sink in, after they beat the Catalan giants 2-1
By Rebecca Stephenson (@1rebs)
Last Updated: 08/11/12 6:11pm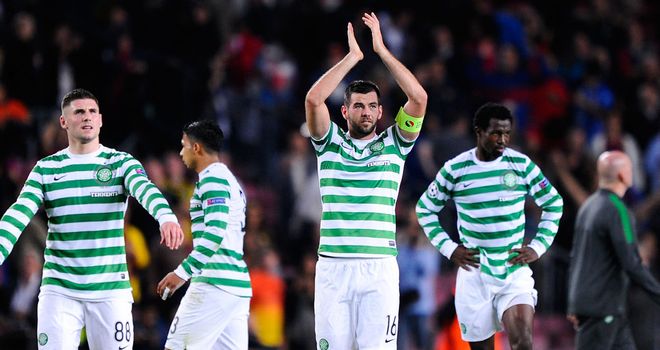 The Scottish champions enjoyed an historic night in front of almost 60,000 raucous fans at Celtic Park as they took an unthinkable two-goal lead through Victor Wanyama and Tony Watt before Lionel Messi netted a mere consolation.
In the week of the club's 125 year anniversary it was more than most of the supporters dared to dream of, even after they ran Barcelona close in the Nou Camp a fortnight ago.
The result leaves Celtic with a superb chance of making the last 16 - in fact a win over Benfica in Lisbon later this month will secure their progression from a group where they were billed as huge underdogs.
Ledley admits the last 24 hours have been a whirlwind.
He said: "I watched it on television but you still can't believe that we have done it, it will take a couple of days, but it was a fantastic achievement.
"I went home after the game and sat with the family and it didn't really sink in.
"Realistically we would probably have thought we would have got no points (from Barca) but what we achieved was fantastic."
He added: "We had to believe after the first game against them in Spain when we lost 2-1 and we took that form into the game
"Obviously we don't want to put too much pressure on ourselves but not many people would have thought we would have been in this position but we are and we deserve to be.
"But there is still a long way to go.
"We still have two games to go and anything can happen but we are in a good position and hopefully we can continue that form."