Neil Lennon insists he would struggle to find a better job than managing Celtic
Neil Lennon admits he is more than happy at Celtic and has no intention of leaving the Scottish champions.
Last Updated: 09/11/12 7:18pm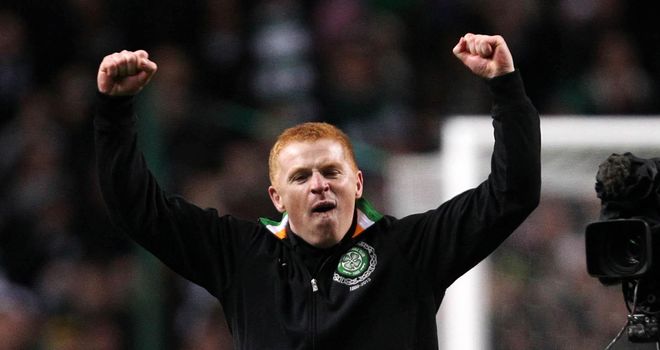 The Irishman's achievements reverberated around the football world after goals from Victor Wanyama and Tony Watt earned the Hoops a stunning 2-1 win at Parkhead.
Celtic now have seven points from four games and could secure a place in the last 16 of the Champions League with victory against Benfica.
Lennon has already been mentioned as a future Premier League boss but he is adamant no other club in the world could offer him what he experienced on Wednesday.
The victory followed just 24 hours after the club marked its 125th anniversary with a mass at St Mary's Church in the Calton district of Glasgow.
"Would I get a better night than that anywhere else in football, I doubt it very much," he said.
"It is what makes the club unique, there is something special about the club on a European night and it manifested itself in all its glory on Wednesday.
"The church service was a very special occasion and made me think about the history of the club more, the founding fathers of the club, and what it means to so many people, not just here in Glasgow but all around the world.
"There was a great ambience and I got an inkling that there could be something special in the air for Wednesday night and it was a very special couple of days.
"But it will not be up to me, it will be up to the board whether they want me here or not. They know what this club means to me, it is a good fit for me.
"I have a good relationship with Peter (Lawwell, chief executive) and Dermot (Desmond, majority shareholder) but that doesn't last forever. But we are going in the right direction."