SPL: Celtic boss Neil Lennon admits he feels privileged to follow Stein and McNeill
Neil Lennon admits he feels privileged to join past Celtic managers Jock Stein and Billy McNeill as double winners.
Last Updated: 11/06/13 12:13pm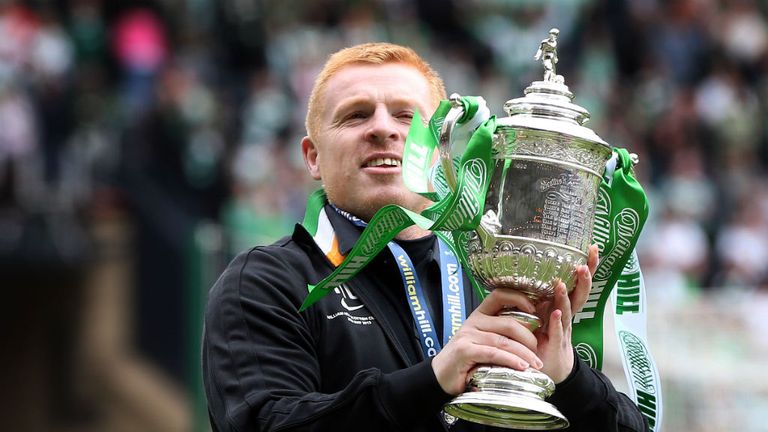 The Northern Irishman wrote himself into the history books last month by bringing the Scottish Premier League and Scottish Cup to Parkhead.
As a player, he won the double three times, but Celtic's 3-0 win over Hibernian in May ranked him in the club's decorated history alongside Lisbon icons Stein and McNeill.
Lennon said: "It feels amazing. To win the double as a player was great but to win it as a manager is just fantastic.
"It's very special, personally, to join those two icons at the club - that's what you do the job for. It was special playing, but this means so much more to me on a personal level.
"When I got the job I wanted to follow in their footsteps. We're progressing well now, that's the double on the back of a great European campaign."
Anniversary
Lennon agreed that the club's 125th season had been special for all concerned and added: "Any year it's brilliant to win the league but I suppose there's a bit more feeling towards this because of our anniversary.
"The Barcelona game the day after the anniversary was amazing and we finished off the league in real style.
"I remember Billy McNeill winning the double in 1988, and 25 years on, I am in charge which is a privilege. To be successful at Celtic, with the club going in the right direction and progressing off the field as well, gives me immense pride and satisfaction.
"It's a significant moment as always and one that will live long in the memory. I really tried to enjoy the moment and had my family here, and for the players in particular it was fantastic. You look back on your career and you think that was pretty good.
"During the 1990s the club was starved of success. Martin O'Neill came in and revolutionised what was going on here and brought a winning mentality to the club. Gordon Strachan carried that on and this is the eighth championship in 13 years so the club is in rude health now."