Celtic to close section of ground housing the Green Brigade
Celtic have announced plans to close the section of the stadium which houses fans group the Green Brigade.
Last Updated: 07/08/13 8:52am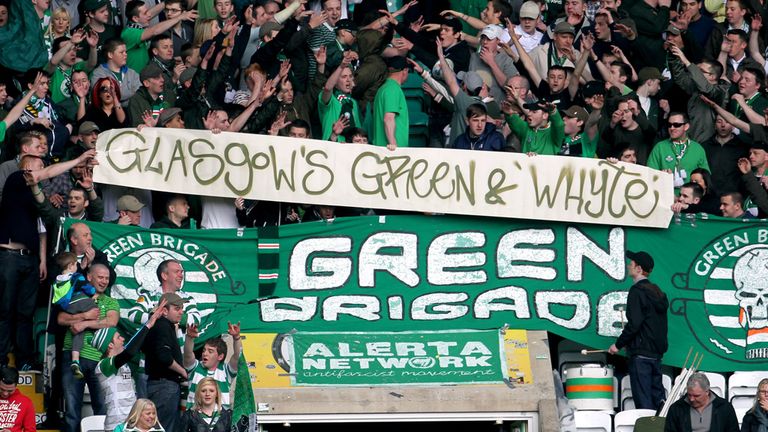 The club insists it has taken the decision purely on safety grounds after issuing several warnings to the group in recent months.
Celtic insisted their action came amid stated concerns from the Safety Advisory Group, which guides Glasgow City Council on safety certificates, and their fears that the stadium could have its capacity reduced or even closed.
The main issues leading to the closure were 'overcrowding, moshing, body surfing, lateral movement and broken seats'.
Last month the champions were hit with a disciplinary charge by UEFA over the use of fireworks during their Champions League qualifier against Cliftonville.
In a statement, Celtic said: "We trust supporters will recognise the club has been placed in an impossible position.
"It may seem to some that lateral movement is not unsafe. But as noted above, that view is not shared by the Safety Advisory Group, or the club.
"The stadium is not designed for movement of that sort, leading to an increased risk of falling and injury. The movement led to seats being broken, which also presents a risk of injury.
"We are sure supporters will agree this behaviour is unsafe, particularly where there are young supporters in the area in question."
In response, the Green Brigade, who have been the focal point for singing and banner displays at the stadium in recent years, said: "The Green Brigade are disappointed to announce our section in 111 is to be closed by Celtic Football Club.
"Pathetically, this is due to 'lateral movement' which has been deemed 'unsafe' by the club's directors.
"Our group and section has continually made concessions and strived to be co-operative with the club over various safety concerns so we are left dismayed that such drastic and immediate action has been taken over such a trivial and harmless movement.
"The group is currently seeking legal advice and will consult with those in our section over the coming days."
The club has made it clear that fans will be offered the chance to relocate to another part of the ground or receive a refund on season tickets.