Kelvin Wilson set to face Elfsborg but could leave Celtic after Nottingham Forest interest
Neil Lennon has confirmed Kelvin Wilson is in contention to face Elfsborg, but conceded the defender could leave.
Last Updated: 07/08/13 6:07pm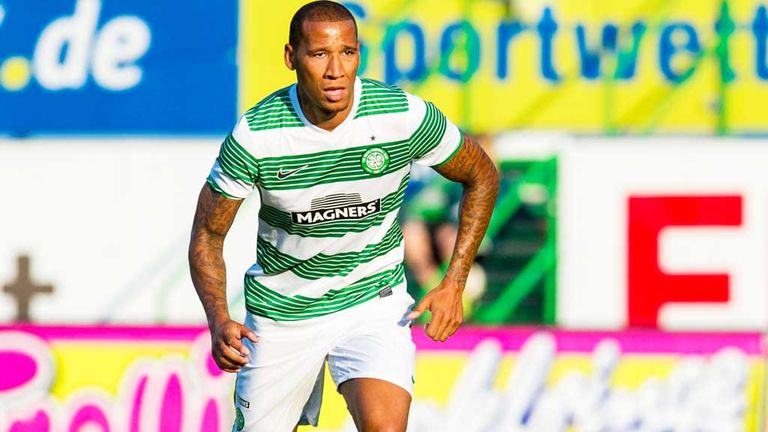 Wilson is reported to have been the subject of two failed bids from his former club Nottingham Forest and Lennon has suggested the 27-year-old is feeling homesick.
The centre-half joined Celtic from Forest two years ago and has established himself as a key figure in Lennon's plans.
Lennon is aware of the interest in Wilson, but is planning to include him in the second leg of the UEFA Champions League qualifier against Elfsborg on Wednesday night.
Asked if Wilson, who has recovered from shin splints, had asked the club for a move, Lennon said: "Certainly not to me, maybe to the club, but not that I'm aware of at the minute.
"Kelvin is here and in contention. I spoke to him (on Monday). I am not going to discuss what I said privately to the player, that is between me and him.
"He is aware of what we think of him and he knows the situation and what lies ahead of him.
"He is quite calm, he is that type, if he is picked and he is ready to play I am sure he won't let us down.
"There is no getting away from the fact that there is genuine interest from a club in England but I don't want to discuss any of the players' situations or conditions until after the game tomorrow night.
"He is a very good pro. I've known him for a long time and I understand the difficulties sometimes. Certain situations crop up and you deal with them the best you can. You have to think about the player as well as the situation at the club.
"There are things we could do for Kelvin but it could be his mind is already made up and that's a difficult thing to deal with.
"He has family in Nottingham, a young daughter, and he finds it difficult being away from that family environment. That is the main crux of his situation."