Scott Brown warns Macedonia that Scotland are ready for a battle
Scotland skipper Scott Brown has promised to fight fire with fire against a physical Macedonia side on Tuesday night.
Last Updated: 09/09/13 6:02pm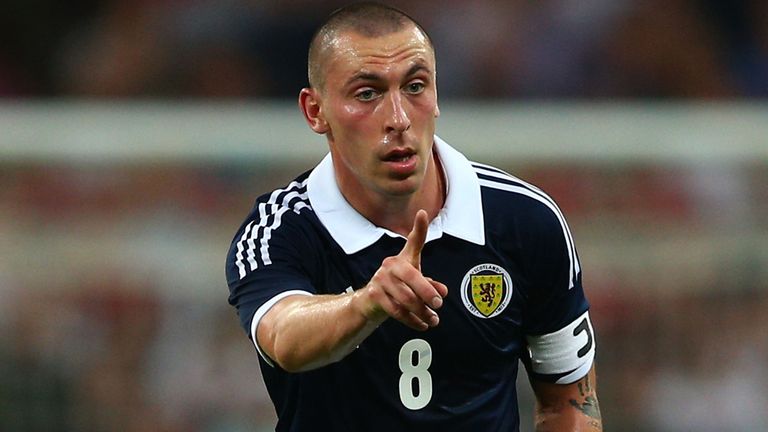 Macedonia beat Wales 2-1 in Friday night's World Cup qualifier and they unsettled Chris Coleman's men with their aggression.
And Brown urged his team-mates to meet the challenge head on.
He said: "I heard the other day that they kicked Wales off the park and were in for every challenge and were aggressive.
"We are going to have to do that as well. It's time we managed to do both sides, not just the pretty football.
"But there are players in there who can do that. We can battle, we can win the ball, and we can also play."
Scotland have taken on Croatia, England and Belgium in their last three games - all teams who are currently in the top 14 places in FIFA's world rankings.
And Brown is anticipating a different type of task in Skopje against a side ranked 89th, 30 places below Scotland.
"We have played three huge games against three great teams," the 28-year-old said. "We have played against some really good players and we have been able to match them as well as being able to get the ball down and play.
"This is going to be a different aspect of the game. It's maybe not going to be a football game, it's going to be more of a battle to be perfectly honest.
"We have come over here before and I know what to expect. They are going to get in our faces and try to press us and try to win every battle.
"But I believe in this group of lads. I know the front three or four are maybe not the tallest but they have got a lot of different qualities and bring something other people can't bring."
Scotland lost 1-0 in Skopje five years ago, a match played in scorching near-40 degree heat. It will be much cooler on Tuesday, but the pitch came in from some criticism after the Wales game.
Brown said: "I have not exactly got the skin colour for a two o'clock kick-off in 40 degrees so I think that's a big bonus.
"I just remember the pitch not being the best. I'm hearing it's probably not the best again but that's not an excuse for us.
"We were unlucky. We got beat 1-0, we created a few chances and I think we should have had a penalty as well.
"But this is our time now and hopefully we can go and get a good victory."
The Scots are bottom of Group A on five points and need a result in Skopje to have any chance of finishing above their opponents.
"It's huge," Brown said. "Of course we don't want to finish bottom but there are two huge games left for us and we want to do as well as possible.
"It's not nice to see us at the bottom but we have the two games and we want to get points, that's for sure."