Scott Brown admits 'mistake' after 'harsh' red card costs Celtic against Barcelona
Scott Brown has admitted responsibility for the red card which helped Barcelona win at Celtic Park on Tuesday.
Last Updated: 03/10/13 2:30pm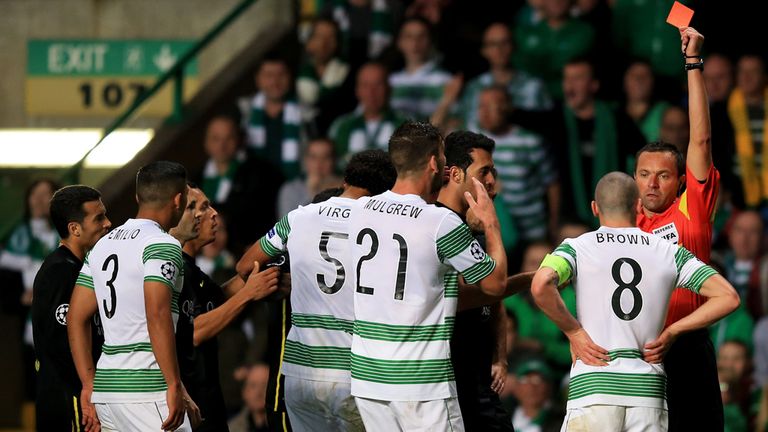 The Celtic captain was sent off for kicking out at Neymar after the pair tangled while chasing a loose ball during the second half in Glasgow.
The Champions League Group H game was goalless at the time, and Barca went on to win 1-0 thanks to a late Cesc Fabregas header.
Celtic boss Neil Lennon afterwards refused to condemn his midfielder's actions, dismissing the incident as "nothing".
But as the dust settled on his side's second straight group defeat, Brown told his club's website: "I realise that I made a mistake in getting sent off.
"It's something that happened in the heat of the moment but I shouldn't have acted in this way.
"I still think it was a harsh decision. However, I recognise that I made a mistake and put myself and my team-mates in a difficult position. I need to live with that and there is no-one more disappointed than me about losing the match.
"There wasn't a huge amount of contact at all, to be honest, but I have to accept responsibility for my actions - and I do.
"The team deserved to get something out of the game after playing so brilliantly and putting in so much effort against one of the best sides in the world.
"I was also disappointed for the supporters after the incredible backing they gave us during the game. They were magnificent once again."