Champions League: Neil Lennon continues his defence of Scott Brown over sending off
Neil Lennon has insisted Scott Brown did not have to apologise for his sending off in Tuesday's defeat to Barcelona.
Last Updated: 03/10/13 6:04pm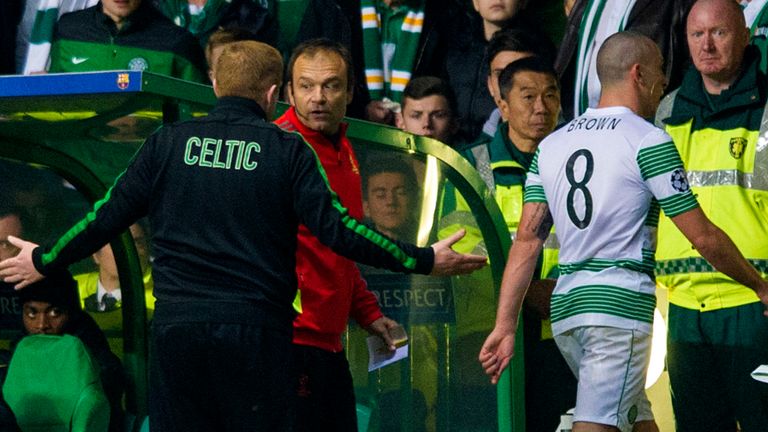 The Celtic skipper was dismissed in the 58th minute at Parkhead for kicking out at Neymar after he had hauled down the Brazilian.
Cesc Fabregas headed the winner for the visitors and Brown apologised for his actions in the dressing room following the game.
But Lennon still maintains that Brown did not deserve a straight red card, and he again hit out at Neymar for over-reacting to minimal contact.
Lennon said: "Looking at the incident again, I stand by what I said. Contact is minimal, if there is any at all.
"People might call it petulance but is it a sending off? No.
"The tackle by (Sergio) Busquets on (Beram) Kayal, that warranted a red card for me and Emilio Izaguirre on (Dani) Alves.
"There were far more physical and worse challenges in the game than Scott's and I feel aggrieved.
"I am getting criticised for that now and that's fine. It's my opinion, he's my captain.
"He has come out and apologised for it which I don't think he needed to do but maybe he felt compelled to do that for the supporters.
"But I am disappointed with the reaction of Neymar."
But Lennon confirmed he would not be appealing the sending-off as Brown will incur only a one-match suspension, which could be increased if any appeal is thrown out.
"I would have appealed if the ban had been more severe," Lennon added.
"But at the minute we are looking at a one-game ban, so we don't want to make things any worse."