The SPFL has said it will hold an enquiry into a banner display at Celtic Park
The SPFL has begun enquiries into a banner display during Celtic's 3-1 home victory over Aberdeen last weekend.
Last Updated: 28/11/13 7:17pm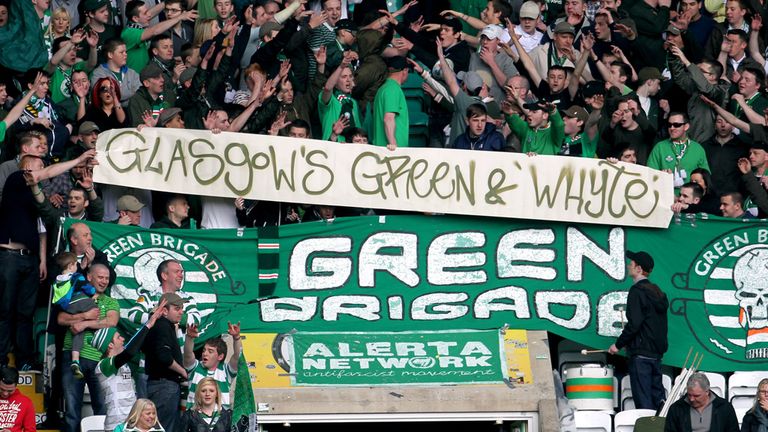 The news comes just 24 hours after UEFA opened disciplinary proceedings against Celtic on Wednesday over an 'illicit banner' on display during the 3-0 defeat to AC Milan which included images of hunger striker Bobby Sands and Scottish Nationalist William Wallace.
Above and below the banners were displayed the words 'The terrorirst or the dreamer, the savage or the brave, depends whose vote you're trying to catch, or whose face you're trying to save'.
The game's European governing body has a zero tolerance on 'political banners' and Celtic released a statement on Wednesday condemning the Green Brigade, a vocal section of the Parkhead support, for putting on the display having previously been warned against the consequences for the club.
In the statement on Celtic's official website, chief executive Peter Lawwell reminded the group of their obligations and warned anyone involved in further displays, which were in 'no way football-related', would be banned from the ground.
And now the SPFL are considering further action in relation to the display against Aberdeen which showed a large 'H', believed to represent the block in the Maze Prison where 10 Irish Republicans died on hunger strike in 1981, with the words 'They fought and died for their wee bit hill and glen', a line from Flower of Scotland.
SPFL chief executive Neil Doncaster told STV: "We are looking at that and as soon as we are in a position to comment further then we will do so."
However, the Green Brigade has hit back at Lawwell insisting their displays are in protest at the Scottish Government's Offensive Behaviour at Football Act and Police Scotland's implementation of the legislation, which they claim has criminalised expressions of Irish politics.
The fans' response read: "The club's statement claims we assured them our display would be purely football related but that in fact it had nothing to do with football.
"In reality however what was assured to them was that our plans were completely relative to Celtic and indeed football.
"Given that it is Celtic fans who are filling up prison cells and court rooms because of the Offensive Behaviour at Football Act, and the manner in which it criminalises legitimate expression of political opinion, this display could not have been more relevant in the current context.
"The fans are the lifeblood of any football club and to deem fan issues as irrelevant is frankly disgraceful."