St Johnstone drop ban of flags and banners for Celtic's Boxing Day game
St Johnstone have lifted their ban of flags and banners for Celtic's game at McDiarmid Park on Boxing Day.
Last Updated: 24/12/13 10:07am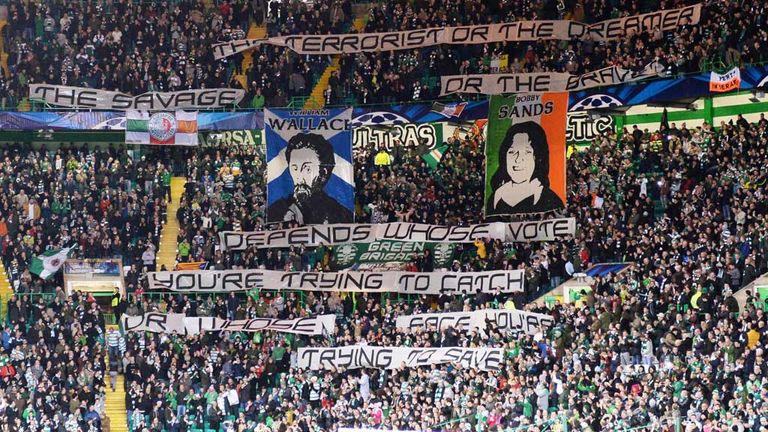 The club had feared the items would be used by fans to smuggle pyrotechnics into the ground and as a shield for lighting them once inside.
However, there was an outcry from Celtic fans who claimed their freedom of expression was being curtailed amid suspicions that political motives were at work and it has brought a climbdown.
A statement from the Glasgow club said: "Following discussions today between Celtic, the local police and St Johnstone it has been decided that flags and banners will now be permitted at the match on Boxing Day.
"We have an excellent relationship with everyone at St Johnstone and we thank them and the police for reviewing their initial decision.
"Football is about colour and atmosphere and creating a positive occasion for all and everything should be done to ensure that such an event can take place."
Firing smoke bombs and flares is a criminal offence at Scottish grounds but at Celtic's most recent Scottish Premiership away trip, against Motherwell, a number of pyrotechnics were let off by away fans.
Celtic, who banned 128 supporters after those incidents, were also fined around £42,000 by UEFA after a section of their following, the controversial Green Brigade group, unfurled a banner depicting IRA hunger-striker Bobby Sands at a Champions League game last month.
They had previously been fined three times in the last two years by UEFA for fan indiscretions.
As a result of this troubled history, Celtic warned their fans to behave as well as welcoming the U-turn on flags and banners.
Their statement continued: "We do not need or welcome any form of pyrotechnics at matches and clearly any continued presence of these does nothing for Celtic or our supporters.
"Celtic have already had discussions with our main supporters' representatives and we have been assured that our supporters will again back the club in the right manner at McDiarmid Park.
"With the team currently unbeaten in the League we want our fans to come and enjoy the game safely in a positive atmosphere - and hopefully celebrate the club continuing this great run over the festive season."