SPFL: Fergus McCann reveals how his Parkhead revolution almost stalled at the outset
Fergus McCann believes his Celtic revolution may never have materialised had a previous bid for control been accepted.
Last Updated: 05/03/14 6:13pm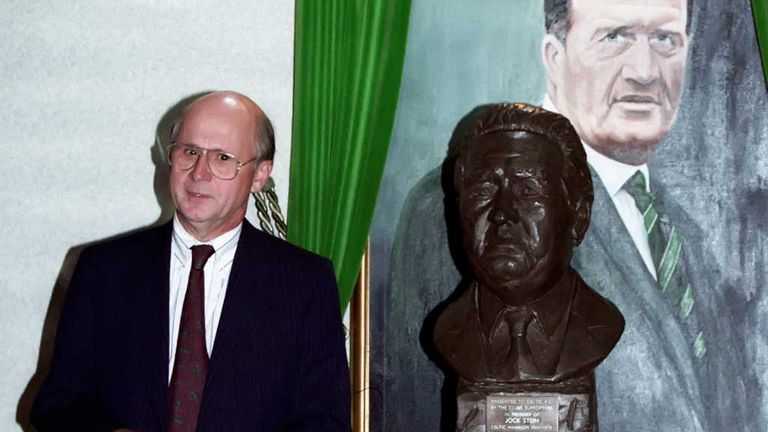 Twenty years ago this week the Scots-born Canadian businessman rescued the club from receivership when paying off the Bank of Scotland just eight minutes short of a strict deadline.
McCann, known affectionately among Celtic fans as 'The Bunnet', put £1m of his own money on the table to stave off any threat of immediate bankruptcy before adding a substantial investment and overseeing the most successful fan-based share issue in British football history.
His intervention ensured all debts were met, the club's history remained in tact, a 60,000-seater stadium was built and the foundations were laid for the team which would end Rangers' hopes of a 10th successive league title four years later.
McCann, who said he would 'be gone in five years', was true to his word when he bowed out in 1999 after selling his majority shareholding in the club to Irish entrepreneur Dermot Desmond.
Celtic plan to mark the anniversary of his timely arrival this summer, but speaking in the Celtic View the 72-year-old revealed how close his boyhood club came to rewriting the history books.
"Around 1989 the original offer was a £6m loan at half the bank interest rate, to fund a 16,000-seat stand on the north side but came with no shares or board position. And a marketing contract to do a season ticket campaign.
"This was before the Taylor Report. The park would have 24,000 seats and
48,000 standing. In hindsight, this would probably have not worked well.
"With no authority and subject to a board driven by fear and suspicion, and with no business sense, my position would have been too weak to make the required radical change in the culture of Celtic's leadership."
At the time Celtic was a privately owned company and the board of the day - made up of Jack McGinn, Chris White, Kevin Kelly, Jimmy Farrell and Tom Grant - unanimously opted against taking up his first offer in 1989, and again when he made his first advances five years later.
But on March 4, 1994, McCann eventually managed to push through his rescue bid to save the club and now one of his greatest passions is spending time at Parkhead as a 'regular fan'.
"I would be quite content to just be the anonymous supporter I used to be,"
he said. "I want the best for Celtic, and like every other supporter, I want to
be proud of the club. This is what matters."