SPFL: Former Celtic skipper Tommy Boyd denies Rangers' absence a factor in title success
Former Celtic skipper Tommy Boyd has rubbished suggestions this year's title is devalued due to the absence of Rangers.
Last Updated: 27/03/14 11:26am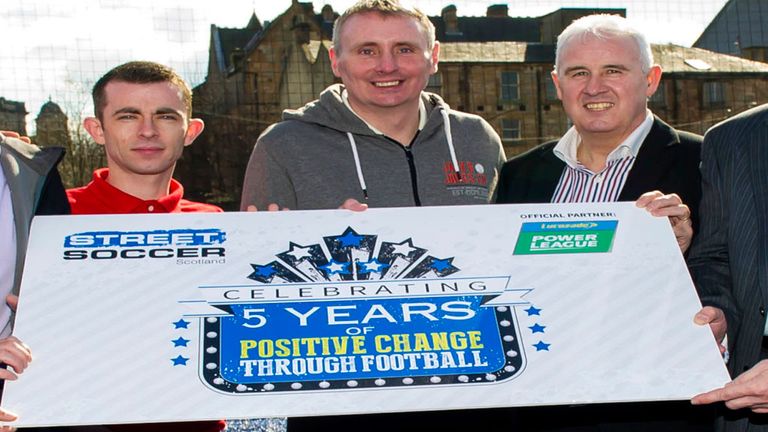 Victory at Partick Thistle secured a third successive championship for Neil Lennon's side while Rangers continue to work their way through the lower leagues following the oldco's liquidation in the summer of 2012.
Boyd insisted the Hoops would have strolled to their 45th domestic crown no matter the opposition.
Speaking to Sky Sports News the former Motherwell and Scotland defender said: "That argument is absolute nonsense.
"I remember the time when I first played for Celtic and we were finishing third, fourth, fifth in the league and there was no cry that there was 'not a strong Celtic' in the league at that time.
"This team, without a Rangers team in the league, have actually got better than they were last season. They have shown great consistency, keeping clean sheets, scoring goals for fun and setting the standard.
"I would certainly think that this campaign has been exceptional. To have only lost just one league game at this stage - at Aberdeen with 10 men - shows they thoroughly deserve to be winning this league.
"No matter what form of Rangers would be in this league Celtic would still be dominant and I'm sure with the players they have they will certainly go on and win a few more titles."
Former Rangers director Dave King, who lost £20m of his own money in a previous investment, has admitted being ready to put £30m into the League One champions fearing that Celtic could win 10-in-a-row without his intervention.
Asked if this was realistic, Boyd, who was taking part in the fifth anniversary celebrations of the launch of Street Soccer Scotland, along with the announcement of a five-year sponsorship deal with Powerleague in Glasgow, said: "Not at this moment in time.
"It would certainly take a lot more than the amount Dave King has mentioned to invest in the football club. If Celtic were able to keep hold of the players who have shown great consistency this season then I think it would take a lot more.
"You just have to look and analyse the players Celtic have at their disposal. The team is full of internationals who have been amassed through a fantastic scouting system and great management skills.
"They may have to sell them on at a later stage but certainly the value of the current Celtic team would be worth a lot more than Dave King would probably be promising to try and put in at this moment in time."
On speculation linking Lennon with the managerial vacancy at Nottingham Forest, Boyd said: "I don't think Neil would want to drop down to a lesser football club, that's my opinion.
"I would certainly hope he stays at Celtic. He has done a fantastic job here. The team have been exceptional this season, have improved their points tally on last season and still have six or seven games to go.
"That is all down to the way Neil has produced the team. They are playing some fantastic football, scoring great goals and keeping so many clean sheets. I hope he will be around for a very long time to see this team right through and hopefully keep hold of their better players."
Watch Celtic attempt to secure their third successive title against Partick Thistle live on Sky Sports 2 from 7pm this evening