Anthony Stokes admits he would like Neil Lennon to stay on as Celtic manager
Last Updated: 27/03/14 4:00pm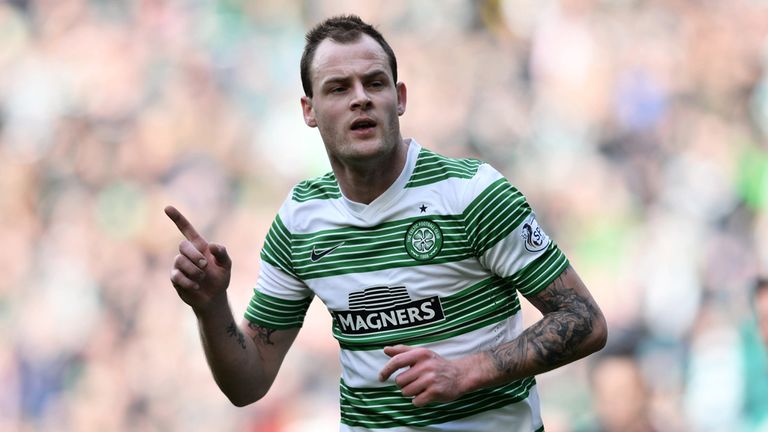 Anthony Stokes admits he would like Neil Lennon to stay on as Celtic manager after securing a third straight Scottish title.
The Republic of Ireland forward scored twice in Wednesday night's 5-1 win over Partick Thistle which rubber-stamped the Scottish Premiership crown and led the praise for Lennon's achievements.
Nottingham Forest, the club Lennon left Celtic to join as a player in June 2007, are searching for a new manager but Stokes said: "I'm sure everyone at the club, including myself, want him to stay for as long as possible.
"He's been outstanding. "He's built his own squad here. All the players he's brought in so I can't praise him highly enough.
"He's had enough to deal with up here as well. With that in the background, it's been phenomenal what he has done.
"It's not easy to win games, week in week out. The gaffer tells us that before every game. We can only beat what's in front of us and at the same time keep trying to improve, improving the squad. Everyone has a goal for Europe as well."
It's not easy to win games, week in week out.
Anthony Stokes
Stokes, who has enjoyed striking up a partnership with new Bhoy Leigh Griffiths in recent weeks, also enjoyed his two-goal salvo at Firhill in front of the Sky Sports cameras.
The Irishman added: "It was a good night, a good performance and a good way to clinch the title.
"It was an early night though as we have a game on Saturday so I'm sure we'll celebrate after that. In the first half last night we didn't play particularly well, it was a bit sloppy after a great start but we finished well."
Celtic have already accrued five points more than last season's 79-point total and, despite failing to reach a cup quarter-final or the Champions League knockout stages, Stokes feels they have improved rather than the competition weakening.
"Aberdeen have been very strong and all the teams have been improving, but we just concentrate on ourselves," the former Hibernian and Sunderland forward said.
"Every year we try to push forward and I think this year in the league we have been outstanding, very consistent, but we were slightly disappointed with the cups and Europe.
"That's something we need to improve on but take nothing away from the league form, it has been outstanding.
"I think I've improved as a player this year. I feel I bring more to the team but I'm lacking a few goals here and there.
"I want to try and score as much as I possibly can. But when we are playing well and winning games, that's all that matters."
However, Stokes admitted the team could still strive to reach the 100-point mark before the end of the campaign.
Lennon's men have seven games left, and a possible 21-point haul, to add to their current 84, starting against Ross County at Celtic Park on Saturday.
He said: "We don't want to tail off, we want to go out and impress in every game before end of the season.
"The fans pay good money to come and see us play and we deserve to put a show on for them.
"It will be nice to celebrate at home in front of our fans. It wasn't ideal last night but sometimes the occasion just takes over."