Transfer news: Beram Kayal resigned to leaving Celtic in summer
Israel international Beram Kayal is resigned to leaving Celtic in the summer after a frustrating time with injuries.
Last Updated: 03/04/14 9:42am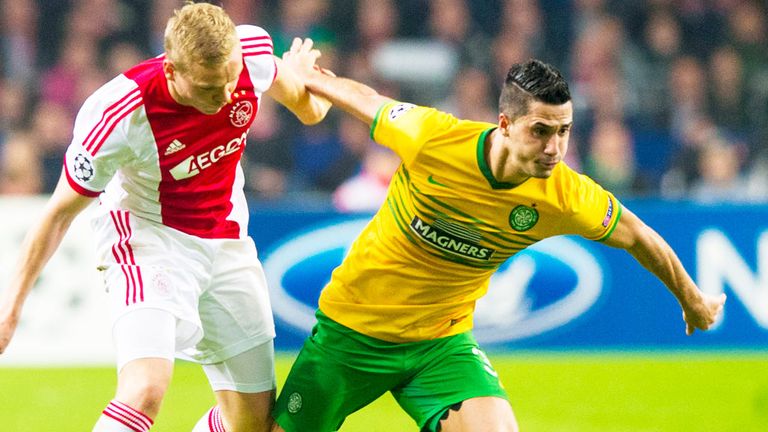 The Celtic midfielder, who has just over a year remaining on his contract, admits he has become disillusioned with Scottish football.
Kayal made a promising start to his career at Celtic Park and was attracting attention from several English Premier League clubs including Manchester United and Liverpool.
But he suffered an ankle ligament injury in a challenge with Rangers defender Lee McCulloch in December 2011 and following a lengthy absence lost his place in the team to Victor Wanyama.
Shortly after returning to first team action the following season, he picked up a leg injury in a tackle with AC Milan striker Kaka, which sidelined him until after Christmas 2012.
Kayal said: "Initially, I liked this league, but after all the injuries I no longer like it. There is a lack of technique, but football is played at a breakneck pace, with power and intensity and it doesn't stop for a minute.
"But I'm not in love with this league. A friend of mine, Joe Ledley, was on the verge of his contract expiring and was sold to Crystal Palace. Maybe this will happen to me because football is a business at the end of the day.
"If someone comes up with an attractive proposition to Celtic and me, then I'll go. In my first season at Celtic, a lot of teams came to watch me and tried to find out what my price tag was. Kenny Dalglish, who was manager of Liverpool, and Sir Alex Ferguson at Manchester United had communications with me.
"When a lot of teams were interested, Celtic wanted too much money - like £6m or £7m. Now, because of my injuries, the price is much lower. But my dream is still alive and well. I am only 26 next month."
While clearly frustrated by the setbacks, Kayal is convinced McCulloch deliberately injured him during the match at Celtic Park, which the Hoops won 1-0 to move top of the table having been 15 points behind Rangers just two months earlier.
"The injury didn't look that bad but I believe he did it on purpose. That player is not the cleanest in the world and I have not forgotten that for a moment," he said.
"I was out for a long time and even when I came back, I was not 100 per cent. He was very rude about it. I suppose it's part of football, but I'm happy that every time I played against him since, I have beaten him.
"After a difficult time, I came back and was enjoying football like never before and I scored in the Champions League against Ajax. I felt my injury problems were behind me.
"Then we played AC Milan and in the first minute, Kaka caught me. He said sorry a few minutes later and I told him, 'you have broken my leg'.
"I actually played on for 30 minutes, but I couldn't change direction. That caused me to miss another three-and-a half months. But after the game, he asked for my forgiveness and we exchanged shirts. He didn't do it on purpose."