Neil Lennon annoyed over the recent actions of Celtic duo Griffiths and Kayal
Celtic boss Neil Lennon insists he is annoyed by the recent actions of Leigh Griffiths and Beram Kayal.
Last Updated: 09/04/14 2:37pm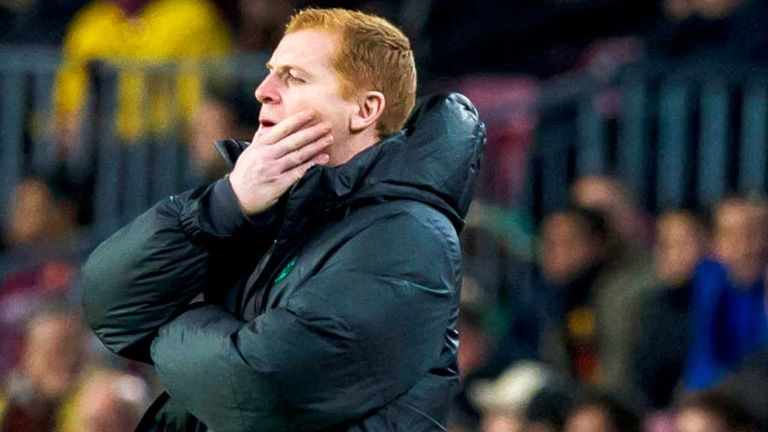 Speaking to a newspaper in his homeland earlier this week, the Israeli reportedly hit out at Rangers skipper Lee McCulloch while questioning the skill level of football in Scotland.
Kayal claimed a tackle from McCulloch in December 2011 - which put him out of the game for four months - 'was deliberate', adding he was 'no longer suited to the over-physical nature of the game in Scotland'.
His remarks were picked up by a section of the Scottish media and Lennon, while questioning the authenticity of the quotes, has warned him as to his future dealings with the Press.
"In terms of his quotes, I am not entirely convinced that they are factually correct," said Lennon. "Having spoken to him and seen parts of the interview, I do believe there has been a bit of mischief-making on this side of the continent.
"However, he did it without my consent so I am obviously not pleased with that and he knows that and he will be dealt with.
"I think those quotes about league, certainly, were entirely misconstrued and the context of the interview in essence, there has been bits and pieces taken out of it to suit a certain spin, if you want to put it that way.
"I know it is an easy excuse, but I think he has a valid argument in this. But the issue is that he did it without my consent or the club's consent, and we regard that as a misdemeanour and he will be dealt with."
Meanwhile, the Celtic manager has advised striker Leigh Griffiths to use common sense when it comes to his conduct in public.
Griffiths was issued with a notice of complaint by the Scottish Football Association this week after footage of the 23-year-old singing in a pub was posted on the internet.
The Scotland international, a Hibernian fan who has been on loan twice at the club, was filmed 'singing in public about Hearts in administration' prior to last week's Edinburgh derby.
A principal hearing date of April 24 has been set for the case, which Celtic will defend, although they have fined the player and apologised to Hearts.
"I wasn't over enamoured with it," Lennon said. "We have dealt with it as a club and we have told him there is a certain code of conduct he has to adhere to when he is here at Celtic.
"He didn't use bad language or act in an aggressive manner, but it hasn't pleased me. I can understand why the SFA have become involved - they have guidelines - and I can understand people who probably rung the SFA to complain about it as well.
"There will be people on the Hearts side who will think it is insulting and derogatory. From my point of view, he probably shouldn't have put himself in that position in the first place but, from the other point of view, is it the worst thing in the world that he has done? No.
"I don't mind him supporting Hibs, Hearts or Tottenham Hotspur, whoever, but in public places he has to behave accordingly at times. He is a Celtic player now and his whole focus should be on Celtic."