Celtic boss Neil Lennon not worried by Rangers' hopes to challenge for title by 2017
Celtic boss Neil Lennon is unconcerned at the aspiration of Rangers to mount a title challenge in three years.
Last Updated: 25/04/14 5:39pm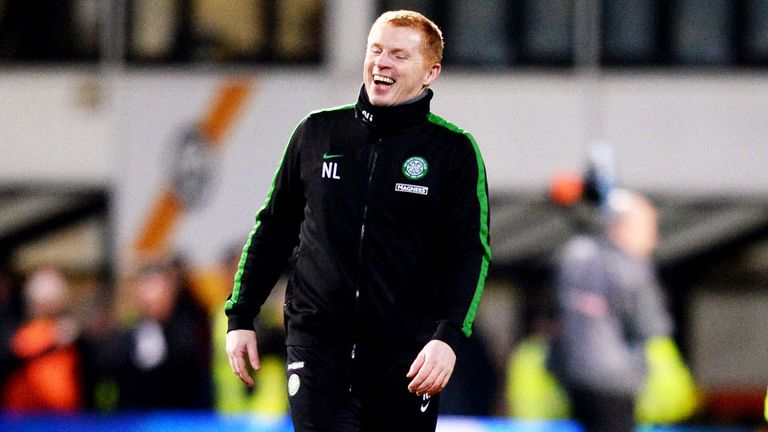 Rangers released the findings of their 120-day review into the finances at Ibrox and revealed the stricken club has spent almost £70m to win successive promotions from the fourth tier of Scottish football.
The review claims Rangers now plan to raise up to £30m over the next three years but warned supporters that plans to withhold season-ticket cash threaten the future of the club.
It was also revealed Rangers fans will not be able to pay for season tickets for the forthcoming campaign with debit or credit cards after the company responsible for handling the transactions insisted the club gave it security over Ibrox - a demand which Rangers have rejected.
On a brighter note for Rangers fans, the club insist their target is to become champions of Scotland for the first time by 2017.
Lennon, who recently guided Celtic to their third successive title, was asked about the statement of intent coming from Glasgow's southside.
"They would need to spend a lot of money I think," Lennon said. "Whether they have that money, I don't know.
"That's three years down the line, it is ambitious. We are really strong and we have no thought of relinquishing that title yet."
Meanwhile, Lennon will discuss the appointment of a new assistant manager with chief executive Peter Lawwell and the club's board in the coming weeks.
Current assistant Johan Mjallby, who has been in the role since 2010, is leaving the Hoops at the end of the campaign.
Lennon reluctantly accepted Mjallby's decision to depart Celtic Park, but is determined to replace the Swede with someone displaying similar characteristics.
"I am very sorry to see him go," Lennon said. "He has been here from day one with me and he has had a huge influence here over the last four years.
"But he has been away from his family for quite a while and that can take its toll. I have time to make that decision but the phone has been red-hot for the last week or so already.
"I will it down and talk with Peter and the board over the next few weeks and come to some sort of conclusion, but ideally the guy will be in for June 25.
"It is something we need to take our time with, it is an important decision. I have a few people in mind but whether they can come and do it at this stage of their career, I don't know.
"We grew together and Johan certainly wasn't a yes man either, we had our differences. Ideally, I want someone who will come in and bring something different, be able to challenge the manager - in the right way obviously - and if things aren't working out to put his opinion across and not just agree with everything I want to do, although ultimately it will be my decision."