Celtic boss Neil Lennon continues to back striker Leigh Griffiths following recent tabloid allegations
Celtic boss Neil Lennon has again given his backing to striker Leigh Griffiths after recent tabloid allegations.
Last Updated: 28/04/14 9:55am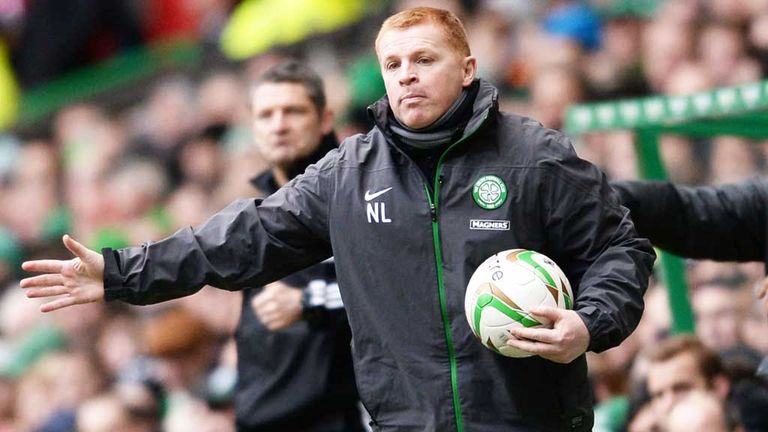 Griffiths scored one goal and contributed to two others, and was Celtic's best performer after hat-trick hero Anthony Stokes.
Prior to kick-off a section of the Celtic support unveiled banners which read: 'A man must be a Celt on and off the field otherwise he is of no value to this club' and: 'refugees welcome, created by immigrants' which alludes to Celtic's formation in 1888.
The messages on display came after Griffiths reportedly joined supporters of Hibernian in singing a song about Rudi Skacel, calling the former Hearts player a 'refugee' and over another chant about the financial strife of the Tynecastle club.
Griffiths has not been charged over the incident, and Lennon reiterated Celtic are carrying out an investigation into the allegations.
"I can't comment on the banner because I wasn't sure who it was aimed at for a start," Lennon said. "If it was aimed at Leigh then we are going through a process at the minute and we will be able to speak more about it when the process finishes.
"We've all made mistakes. But I think the kid will come good. I think he'll learn from it and have a good career here.
"I don't know if he was aware that the banner was aimed at him. If he did then we expect those kind of performances from him anyway.
"I think that's seven goals in 11 games so he's doing exactly what we brought him in to do."
Meanwhile, the Celtic manager also had praise for Stokes, who set up Griffiths for his goal while taking his tally for the season to 19 with his treble.
"For a long time now Anthony has been playing very well. Now he's getting the goals that his all-round play is deserving," he said.
"More or less every season he's been here he's reached 20 goals so he's been a very important player since I came in the door and he's improving all the time."
Caley Thistle boss John Hughes was frustrated by his team's defensive play, but conceded they could not match the champions on the day.
Hughes said: "We worked hard on how we would set up but then lost the first goal from a set-piece.
"But you also have to give credit where it's due. Celtic are miles ahead of anyone else in Scottish football and have an abundance of attacking talent. Neil has done a tremendous job here and you have to hope you catch them on an off day.
"In saying that, we also self-inflicted. I felt that when the third goal went in we started to feel a bit sorry for ourselves and lost our shape a bit.
"That's not us. It is disappointing but we have to try and learn from it and respond in the right way."