SPFL: Johan Mjallby not expecting Neil Lennon to leave Celtic yet
Johan Mjallby expects Celtic boss Neil Lennon to leave for the Premier League, but not this summer.
Last Updated: 02/05/14 10:09pm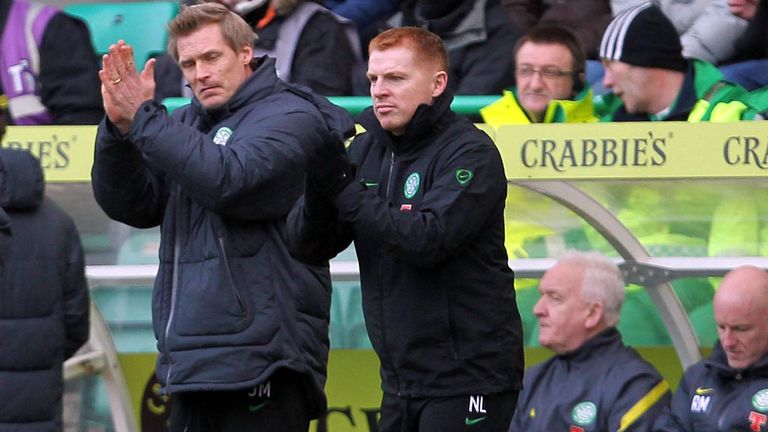 Mjallby has been Lennon's No 2 at Celtic Park for the last four years but is leaving the club at the end of the season to pursue a fresh challenge.
However he does not think Lennon will make it a clean break for the current Celtic coaching staff despite constant links with the manager's position at Norwich City.
Mjallby said: "Neil is under contract and I don't see any reason why he would leave.
"He hasn't told me anything about that so if you ask me I think he will still be here.
"He has improved tactically since we first got together and he has calmed down a bit too, which will stand him in good stead. I think he will go on to have a very successful career as a manager.
"He's hungry to improve and I can see him moving to England at some stage - definitely at some stage. Why not? He knows the British game and has played down south, so obviously I can see him moving there one day."
Mjallby won three Scottish titles as a player under Martin O'Neill and has added three more since taking over as Lennon's right-hand man, but he feels the time is right to leave.
"I feel quite brave leaving such a massive, successful club but it's time to do something else," added Mjallby ahead of Saturday's clash with Aberdeen.
"That is my only reason for leaving. I have been thinking about it for quite a while and now it is official. I just feel I'd like to work for another club.
"We have put Celtic on the European map. Financially we are not as strong as when I was here as a player so there is a feeling that I have achieved everything I can here.
"We have won the title three times running so maybe it is time for the club and me to part ways.
"Would I like to be a manager in my own right? Yes, in the future. I'm still happy to be an assistant but I'm confident I could do both roles.
"There have been a lot of rumours that I will only work in Sweden but that is not the case. I'm open to any offers. But I'm not weighing any up now, definitely not."