Scottish Premiership: Trophy wait almost over for Celtic manager Neil Lennon
Celtic boss Neil Lennon is eagerly looking forward to seeing skipper Scott Brown lift the Scottish Premiership trophy.
Last Updated: 11/05/14 11:51am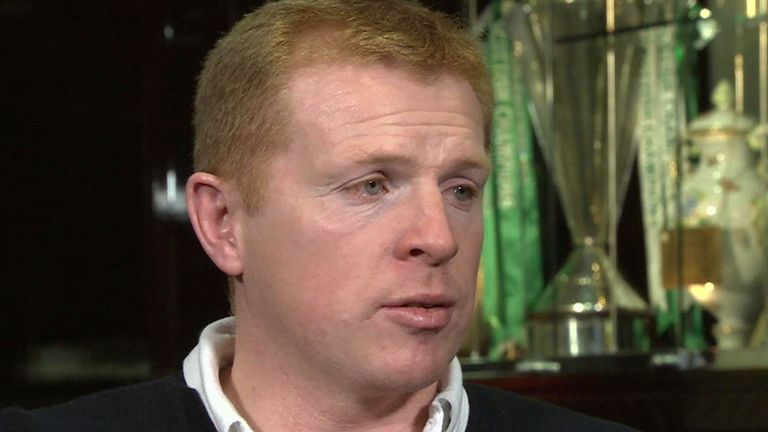 The Hoops clinched their third successive title at Partick Thistle in March but have had to wait for the silverware until the final game of the campaign.
Lennon, though, insists the delay will be worthwhile when the traditional podium celebrations take place in front of what will be a huge crowd at Parkhead.
"We have been a long time waiting on it, seven or eight games," he said. "We didn't get the opportunity to celebrate it properly with our own supporters but on Sunday we can.
"Obviously we have a game first and that will take centre stage. But there is no better feeling as a manager than seeing your captain lift the championship trophy.
"It is the third one in a row and I am really looking forward to it. I know our players will want to finish the season on a high and get 100 goals and we are only one away, which is brilliant.
"We have won five and drawn two since we won the championship and that is excellent, keeping our focus when we are so far ahead, which is a difficult thing to do.
"There is no pressure on Dundee United either, and they play good football, so we are hoping it will be a good game of football. We will go as strong as we can."
Celtic have only lost to Aberdeen in the league so far this season but it is the home Scottish Cup defeat to the Dons that frustrates Lennon more.
"The league defeat doesn't blot what was a fantastic campaign," he said. "The cup defeat annoyed me but I can count on two fingers the amount of games I have been upset by players domestically this season.
"They have been fantastic. They get taken for granted. There is an expectation that they should just go out and stream-roller teams and that is being disrespectful to the opposition.
"But over the piece, we have played some brilliant football and I don't think too many people can complain about their performances this year.
"We had 79 points last year, we are on 96 at the minute and can get to 99 so I think that is a huge improvement in the league."
Watch Celtic take on Dundee United live on Sky Sports 2 at 12.15pm on Sunday.