Charlies Nicholas on Neil Lennon's departure from Celtic and what's next
Charlie Nicholas doubts Neil Lennon is ready to take over at a Premier League club after his Celtic exit.
Last Updated: 22/05/14 2:22pm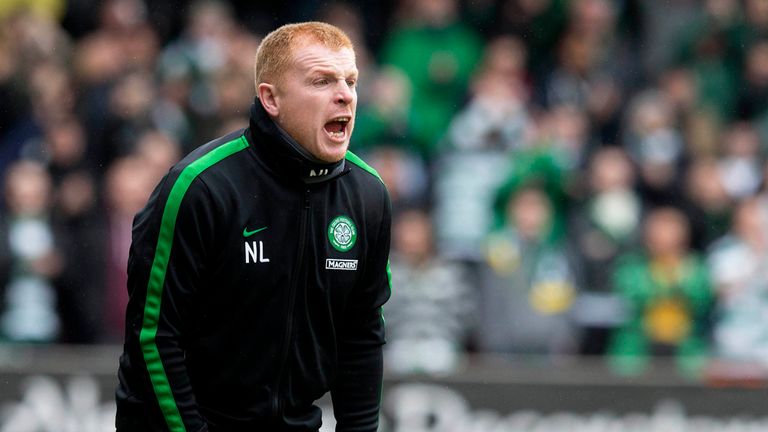 Lennon announced his decision to end his five-year reign at Celtic Park on Thursday. Lennon's agent denied he was in talks with any Premier League clubs but the former Northern Irish international was immediately linked with a move to England and the vacant managerial positions at Norwich and West Brom.
However, Nicholas believes that Lennon, despite his success in Scotland, has yet to prove he is capable of leading a club with a budget of the size of a typical Premier League team.
Instead, a move to a Championship side with top-flight aspirations may be a better fit for Lennon, according to the former Celtic forward.
Asked if Lennon would now move to the Premier League, Nicholas told Sky Sports News: "I am not convinced by the Premier League. I think he has matured and he has stopped being argumentative with officials and hierarchy. He has calmed down in that and he is bright. I think he is a good decision maker.
"When you look at teams like Burnley with budgets of £60million or £70million - Neil is probably still learning that side of the game.
"I think that Championship teams who want to build and want to give him some responsibility, is where he probably sees his next step up. It might be a step down in size of football club but, for him personally, he might think may be it is a different challenge he requires."
Lennon won three successive league titles and two Scottish Cups, as well as impressing in the Champions League, during his time in charge of Celtic.
But Nicholas felt the limitations of Celtic's budget, and his inability to bring in more expensive players to push on in Europe, ultimately frustrated Lennon and led to his departure.
Fresh challenge
"The fact that he did not win doubles and trebles when the team was so much stronger than everybody else will probably stick in his throat a bit," Nicholas said of Lennon's record in Scotland.
"I didn't think that Neil looked like he enjoyed it as much this season and I can understand a large part of that. He is a very intelligent man. I think the reason he is doing it is that he has thought to himself that it is time for a fresh chance for him and a fresh challenge for Celtic."
Candidates
As for Celtic's next manager, Nicholas suggested that Jackie McNamarra, the former Celtic defender and current Dundee United manager, could in a "serious position to go for it".
Nicholas claimed that former Cardiff manager Malky Mackay could also be interested but dismissed the idea of Celtic fans' favourite Henrik Larsson taking over as a "sentimental" suggestion.
Whichever way Celtic decide to go, Nicholas insists they must act quickly with the Champions League qualifiers beginning in July.
"The first qualifier is a simple one but the next two after that are always tremendously difficult," he said. "It has to be quick but it has to be the right one. If you get the wrong one and Celtic don't make the Champions League [group stages] then that is a disaster for Celtic football club."
Bullets in the post
Andy Walker agreed that Lennon had become increasingly frustrated with the Celtic becoming a 'selling club' and that he was ready for a new challenge.
The Sky Sports expert, who picked out Celtic's win over Barcelona at Celtic Park in the Champions League as probably Lennon's highlight at the club, also echoed Nicholas in suggesting that Lennon would suit a Championship club rather than a Premier League one.
Although he pressed the many qualities that Lennon could offer a new club.
"He has resigned so there is no compensation to be paid," Walker said.
"Anyone interested in Neil Lennon will get a manager who has European experience, Champions League experience. He has show that he is capable of delivering a trophy or two at Celtic under a great deal of pressure.
"Remember this is a Celtic manager like no other. I have been involved in Scottish football for a long time and no one has been under the amount of pressure that Neil Lennon had.
"No one has had bullets sent to them through the post; no one has had a threat to their life as he has. So for him to manage under those extreme circumstances shows that he has a strong mentality."