Everton winger Aiden McGeady insists Neil Lennon will be a tough act to follow at Celtic
Everton winger Aiden McGeady insists Neil Lennon will be a tough act to follow at Celtic.
Last Updated: 22/05/14 5:06pm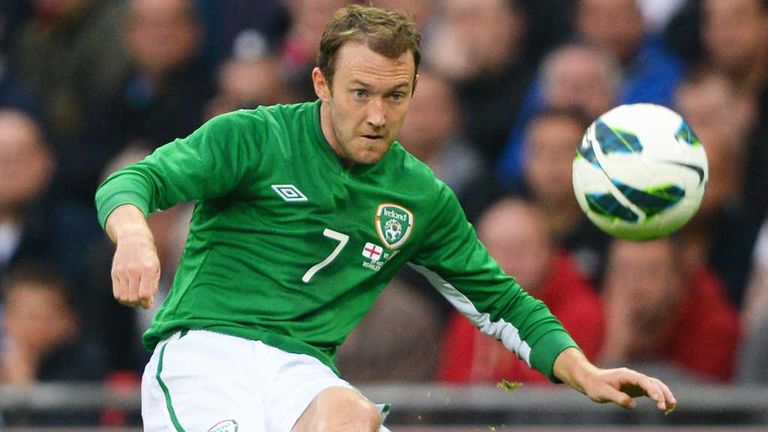 The Irishman decided to leave his post at Celtic Park after four years in the job, in which he won three consecutive league titles and two Scottish Cups.
Lennon also guided the team into the lucrative Champions League group stages in the past two seasons, taking his team to the last 16 in 2013 in a run which included a memorable victory over Barcelona.
Republic of Ireland international McGeady, who played both with and under Lennon during his time at Celtic, knows the new incumbent faces a tough task.
Asked how much of a blow the Ulsterman's departure was to the club, the Everton winger said: "It's a big blow. Now Celtic will obviously be looking to replace him with someone, but the big question is who do you replace him with?
"That's the first question, which candidates are out there? You start looking straight away.
"It will be a difficult job because Celtic is a massive club and success is a way of life, you have to go and win every game, you have to go and win every trophy you compete in, apart from the Champions League.
"If you are not winning two trophies a year, you are seen as a failure."
While McGeady claims the news did not exactly come as a shock, he was caught out by the timing of the announcement.
The 28-year-old said: "To be honest, it's not really come as a surprise because of some things I've heard from a few people, that he was a bit unsettled and had probably kind of done all he thought he could do with the club and maybe was looking for a new challenge down in England somewhere.
"Maybe the Celtic fans wouldn't be shocked by it either, but obviously to just hear 10 minutes ago that he had resigned was a little bit of a shock in that sense.
"Ever since he took over at Celtic from when I was there, he was brilliant. I played with him - he was difficult at times to get on with as a player, but as a manager, I can't speak highly enough of him.
"He was fantastic when I was there and led the club to many trophies in the last four years.
"Maybe he just thinks it's time for himself to get down to England somewhere and have a new challenge."
Meanwhile, England goalkeeper Fraser Forster, one of a handful of players whose careers have flourished under Lennon, posted his response to the news on social media.
Foster Tweeted: "Very disappointed to hear the manager has left. Grateful for everything he did for me over my time at the club."
And Dutch central defender Virgil van Dijk joined his team-mate in lauding the former Hoops boss for his influence on his career.
"Wanna wish the manager all the best in the future," he said. "Did amazing things for the club. And thank him for giving me the opportunity at Celtic FC."