Former Celtic boss Neil Lennon in no hurry to return to football management
Neil Lennon is adamant he will take his time before rushing back into football after resigning as Celtic manager.
Last Updated: 23/05/14 5:31pm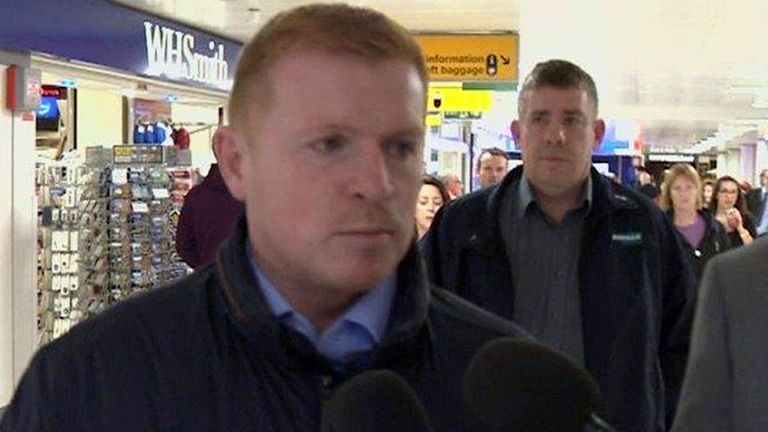 The former Northern Ireland international, who won three Scottish titles during his four-year spell at Parkhead, has been linked with the managerial vacancies at West Bromwich Albion and Brighton.
And Lennon, who is flying to Lisbon with the surviving members of Celtic's 1967 European Cup-winning squad - The Lisbon Lions - insists the enormity of his decision to call time on the Hoops has yet to sink in.
Speaking to Sky Sports at Glasgow Airport, he said: "I imagine it will be a good few days, or even longer, before I feel it.
"At the moment I am just looking forward to the weekend to be with a lot of other people associated with this club and it will be a nice way for me to sign off.
"I just felt the time was right for me to go. I have left the club in a great position from when I took over, both on and off the field, as we are in a very strong position now. Our reputation in Europe is also very, very good now.
"Celtic did everything for me. They gave me the opportunity when a lot of people thought I wasn't ready and four years down the line we have had a lot of success which we are all very, very proud of.
"From where we were four years ago to where we are now is incredible. We are in great health and I can't thank the players enough as well.
"From day one we have achieved great things, individually and collectively, and I am very proud to have worked with them.
"And to the fans, I would just like to say 'Thank you'. I probably wouldn't have been in the job so long if it wasn't for the support I had, particularly a year to 18 months ago so thanks to everyone one of them. All the best.
"I have been associated with this club for 13 years and I am sure I will still have a fond association with it, but I just need time to think things over. Leaving Celtic is a huge wrench, but I will never leave in my mind."
Lennon, who admits he would be keen to try his hand at managing in England, will assist Celtic in finding a successor and believes former striker Henrik Larsson, now in charge of Swedish side Falkenberg, would fit the bill.
Falkenberg revealed there had been 'no contact whatsoever from Celtic', but Lennon said: "You will have to ask Henrik, but if he wants the job I'm sure he will be a huge success.
"Why not? He has had a fabulous career as a player, is a very intelligent guy and knows the game very, very well.
"On England, absolutely, it's an ambition of mine but I need some time to digest what has happened and I won't rush things.
"I don't even know if opportunities will come up. People say it's a bit of a gamble but I just felt the time was right for me and my staff to take our careers in a different direction."
Watch the Champions League final between Atletico Madrid and Real Madrid live from Lisbon on Sky Sports 1 from 6pm this Saturday