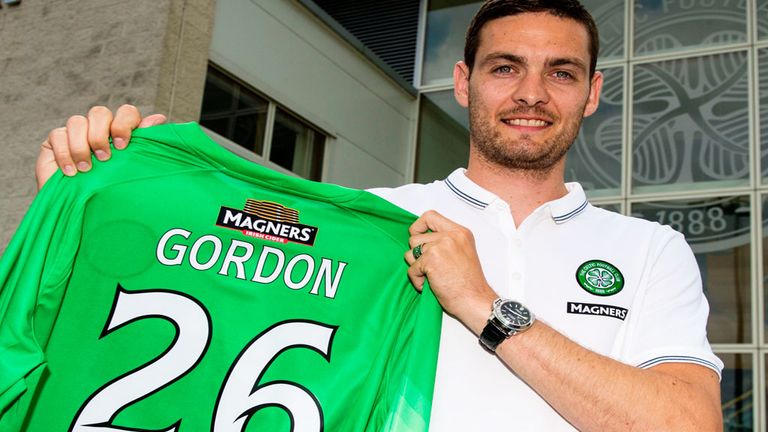 Celtic have signed former Scotland goalkeeper Craig Gordon on a two-year contract.
The Scottish champions have the option for a third year on the 31-year-old, who has not played for over two years due to a serious knee injury.
Gordon, who joined Sunderland from Hearts in 2007 for £9m - a record for a goalkeeper - has spent much of this year building up his fitness at the training grounds of Championship clubs Hearts and Rangers.
Prior to flying out to Austria to join his team-mates on their pre-season tour, Gordon, who has been capped 40 times by his country, told Sky Sports News: "It's been tough, it's been a long road back but this is the exciting part now.
"The hardest part is getting here and now I have to continue that and look forward to getting back into football.
"My next challenge is to prove I can still cut it at this level and it is a challenge I am looking forward to.
"I said to myself over a year ago that I needed to get back to this point where I could get the opportunity to prove myself all over again.
"So that's the stage I am at now and I look forward to that challenge. I can play again now and hopefully all the procedures I endured over the past two years are well behind me.
"Obviously Celtic have good goalkeepers who I need to battle past but the good thing is I am fit and able to give that my best shot and see what happens."
Gordon revealed he was never close to joining Old Firm rivals Rangers.
He said: "Not really. They talked about (an offer) a little bit but that's done now. I want to look forward to what I'm doing here.
"There is a lot of things going on at Rangers and I don't think that I was high on their priority list.
"They offered me training facilities. I was grateful for that. I worked with their physios and they are great people. They have got me back to this point.
"It's slightly ironic, I know, for me to end up here but for me it's a great opportunity to get back playing at a club playing at the highest level and fighting to get into the Champions League. This is by far the biggest club I have ever played for."
He now has a fight to oust England goalkeeper Fraser Forster from the Hoops line-up but Gordon is just happy to be back playing any part.
"I want to play as many games as I possibly can," he said. "I have not been told anything (about whether I will be first or second choice) and I've not asked anything.
"For me to be here at all is an achievement. It's a fantastic club to be joining after the injury nightmare I have had.
"I'm grateful to have this opportunity and I'm going to work as hard as I possibly can to play as many games as I can.
"I came close to the point where I thought I might never play again. I had to work very hard and put in a lot of hours that will hopefully stand me in good stead once I get back into full training and playing games."