Champions League: Henning Berg hopeful of Legia Warsaw's chances against Celtic
Last Updated: 30/07/14 10:46am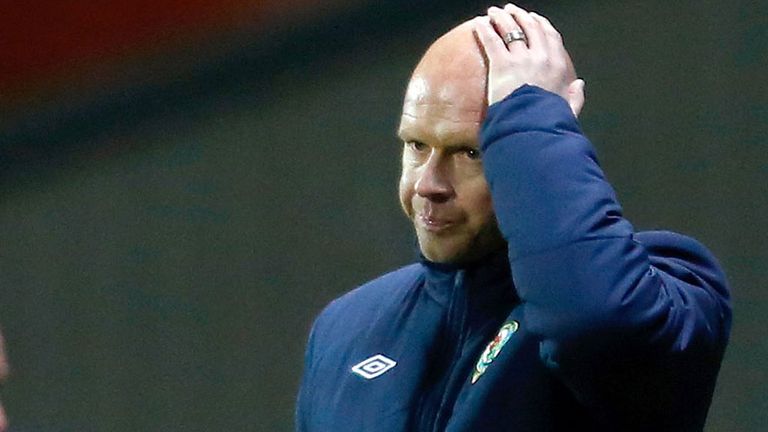 Legia Warsaw manager Henning Berg is hopeful his side can get a positive result in their UEFA Champions League third qualifying round clash against Celtic in Poland on Wednesday night.
Berg, who played for Celtic's Glasgow rivals Rangers, comes up against fellow Norwegian Ronny Deila as the two managers try to guide their respective sides closer to the group stages of the competition.
Speaking before his side trained at the Pepsi Arena, Berg admitted the gulf between his side and Deila's is a significant one.
Sky Sports Alerts
Breaking news, transfer gossip, line ups and goal alerts from your football club - delivered direct to your mobile.
Sign up for Sky Sports Alerts
"Celtic are a little bit further ahead of us as a club," he said. "We would like to be in Celtic's position and that is something we strive to do.
"Be able to compete in Europe every year and sell players for the money they sell players, and buy players for the money they buy players.
"That is our goal. We are not there yet and tomorrow will be a big, big test but a good test and I am sure everyone here is looking forward to this game.
"In any game we feel we have a chance and we know at our best we are a good football team."
The former Blackburn and Manchester United defender believes Celtic's current squad fare well in comparison to the side that beat Rangers to the league by 17 points during the single season he played at Ibrox.
"They had Henrik Larsson, Chris Sutton, some top experienced strikers, and maybe this team in the offensive side is much younger.
"It is a little different type of team but (who are) still winning the league by 15 to 20 points, playing in Europe in the last few years, and beating Barcelona a few years ago.
"So it is two different teams but I think this is a good football team compared to other Celtic teams through history.
"We know it will be a tough game and a test for us."