Champions League: Celtic will find out their fate in the next 24 hours following UEFA hearing
Last Updated: 14/08/14 2:23pm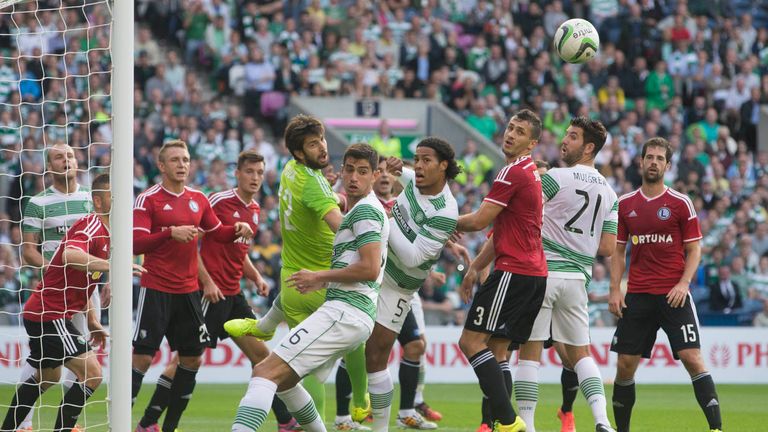 Celtic will find out their Champions League fate by Thursday morning after UEFA heard Legia Warsaw's appeal against their expulsion from the competition.
The governing body's appeals committee met on Wednesday morning to hear Legia outline why they should not be thrown out due to what they refer to as a 'minor administration error'.
The Polish champions beat Celtic 6-1 on aggregate but were consigned to the Europa League after UEFA ruled they fielded an ineligible player during their 2-0 second-leg victory at Murrayfield.
Defender Bartosz Bereszynski was introduced into the match with just three minutes remaining, but it later emerged he had not been registered in Legia's squad for the previous three games and, as such, had not served a three-game ban imposed for a red card in the final Europa League match of last season.
UEFA ruled the match 'a forfeit' handing Celtic a 3-0 victory which was enough to secure a play-off place against Slovenia side Maribor on the away goals rule.
The decision infuriated Legia who claimed the punishment was 'severe in the extreme' and called on Celtic to 'do the honourable thing by stepping aside and allowing them to take their rightful place in the competition'.
Following their hearing at Lausanne, Legia co-owner Dariusz Mioduski told Sky Sports News HQ: "All I can say is that I was very pleased with the way the proceedings went.
"It was quite professional, quite formal and we were given ample opportunity to present our views and to explain the situation that it is more of a misinterpretation of the regulations rather than to avoid the regulations.
"We were listened to, which is the most important thing for me. There were questions asked on both sides, very professionally, and each side gave their arguments.
"Of course, I am not very objective in this as I think our arguments were better but we will see what happens either tonight or tomorrow morning when we expect to receive the formal decision."
Asked if he was confident the decision would be overturned, Mioduski said: "I can't say that but what I can say is that I am cautiously optimistic. I really take great comfort from the fact we were listened to and were able to give our arguments.
"I think on the strength and merit of the arguments, I have some optimism but I cannot say I am fully confident."
Should their appeal fail, Legia's final attempt to overturn the decision would be to take their case to the Court of Arbitration for Sport.