Scotland: Celtic disappointed plans to install safe standing areas remain on hold
Last Updated: 14/08/14 10:38am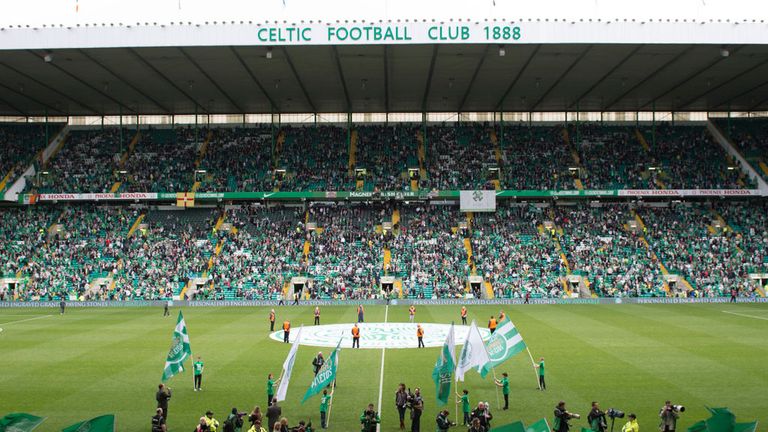 Celtic say they are extremely disappointed that plans to install safe standing areas at their stadium remain on hold following a meeting of the Safety Advisory Group.
The Scottish champions were hoping to be given the green light to remodel areas of Celtic Park to accommodate spectator standing.
But Wednesday's meeting of the SAG, which was chaired by Glasgow City Council, has passed responsibility over to the Scottish Government although Celtic say the government have told them that such a decision should be made at local council level.
Over the past couple of seasons Celtic have carried out research to help further their proposals to reintroduce spectator-standing which was banned following the Taylor Report which was set up to investigate the Hillsborough tragedy of April 1989 when 96 Liverpool fans died during their FA Cup semi-final against Nottingham Forest.
A statement from Celtic said: "We do not understand the rationale for today's decision and in an attempt to seek clarity on this matter, we have requested a full written explanation for the judgement made.
"Once this has been received we will be in a position to communicate further with our supporters.
"We are extremely disappointed and concerned that approval could not be given at today's meeting to grant permission to install rail seating at Celtic Park, designed to allow safe standing by supporters.
"The club has provided substantial and detailed information in support of this proposal over the past two-and-a-half years and has made every effort to address comprehensively all issues raised by the SAG.
"Today's decision has been made despite the club also providing the requested additional information from an independent stadium safety expert, Dr Steve Frosdick.
"Surprisingly, we have been informed by SAG that this may be a matter for the Scottish Government, and yet we have previously been told by the Scottish Government that this is a decision which must be taken locally at council level. 
"Spectator-safety at Celtic Park is of paramount importance and we believe the proposals we have made would significantly enhance safety at matches.
"This is a vitally important spectator-safety issue. It is also an opportunity for Glasgow and for Scottish football to lead the UK in this area."