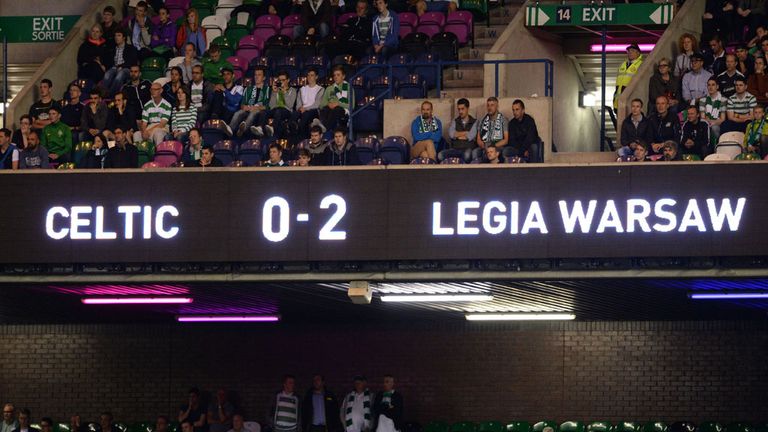 UEFA has thrown out Legia Warsaw's appeal against their expulsion from the Champions League.
The Polish champions beat Celtic 6-1 on aggregate in the third qualifying round but were consigned to the Europa League after UEFA ruled they fielded an ineligible player during the 2-0 second-leg victory at Murrayfield.
Bartosz Bereszynski played for the final three minutes of the match but it later transpired the defender had not been registered for the previous three matches - two against St Pats and the first leg against Celtic - so could not have served the three-match ban he carried over from last season's Europa League.
Celtic were subsequently paired with Slovenia champions Maribor in the final play-off stages for a place in the Champions League group stages while Legia dropped into a Europa League qualifier against Aktobe of Kazakhstan.
The decision to expel them from the competition infuriated the Poles who claimed the punishment was 'severe in the extreme' and called on Celtic to 'do the honourable thing by stepping aside and allowing them to take their rightful place in the competition'.
The Poles also argued that they should not have been thrown out due to what they referred to as a 'minor administration error' but European football's governing body has stood by their original sanction.
In a brief statement UEFA said: "The UEFA Appeals Body met yesterday following an appeal by Legia Warszawa against the decision taken by the UEFA Control, Ethics and Disciplinary Body on 8 August.
"The appeal lodged by the Polish club was rejected and, therefore, the original decision of the UEFA Control, Ethics and Disciplinary Board is confirmed.
"The Control, Ethics and Disciplinary Body had santioned Legia for fielding a suspended player in the third qualifying round return leg against Celtic in Edinburgh on August 6. That match has been declared as a forfeit, meaning Legia lost 3-0." 
Legia reacted immediately to the decision indicating they will now take their case to the Court of Arbitration for Sport in a final effort to have the verdict overturned.
Speaking to Sky Sports News HQ the club's co-owner Dariusz Mioduski said: "Absolutely, we will appeal. We believe this is not just about Legia but it's about football generally and about a sense of fairness and justice.
"We will now try to exhaust every means possible and over the next couple of days we will try to ring fence next Wednesday's games and hopefully by Monday we will have the result of those proceedings."
CAS general secretary Matthieu Reeb revealed the court could make a decision on Legia's second appeal before next week's games.
Reeb told STV: "We can organise a fast-track procedure which takes into account the time constraints and whatever kind of decision, be it an order or final award, and we can try to do it within the appropriate time.
"It's possible if the parties are prepared to do that. All our councils, parties, all people involved in this matter should be available on short notice.
"If there is an appeal, it should be filed as soon as possible so that the start of the procedure is not delayed. We can also use Saturday and Sunday to work on this case. It is feasible but there is no time to lose.
"It depends on what is requested by Legia. If the request is to declare the UEFA decision illegal or contrary to the rules, it is a legal discussion and we should be able to provide an answer after reviewing not only the UEFA decision and the rules, but also the arguments of the parties. This can be done on a short time frame."
Meanwhile, Celtic manager Ronny Deila is keeping his focus firmly on taking on Maribor, and he is expecting a tough test from the dominant team in Slovenia.
Deila said: "We have prepared for Maribor. They are a good team and they have been the champions of Slovenia in the last three years.
"There is nothing easy in the Champions League so it is going to be a hard game but we know what we are able to do when we are at our best. It is hard to say if they are better or worse (than Legia Warsaw) but they are a good team."
Celtic will travel to Slovenia for the first leg on Wednesday August 20, with the return in Glasgow on Tuesday August 26.
Watch Celtic take on Maribor live on Sky Sports 5 from 7.00pm next Wednesday