Double delight for Well
Steve Jennings has signed a new contract with Motherwell, while Nicky Law has completed his move to Fir Park.
Last Updated: 01/07/11 11:18pm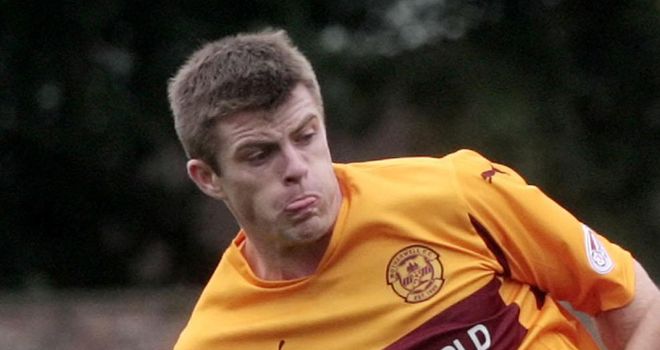 Motherwell midfielder Steve Jennings has signed a new contract with the club, while Nicky Law has completed his move to Fir Park from Rotherham.
Jennings, who had attracted interest from Aberdeen and Hearts, has penned a one-year deal while Law penned a two-year contract after the expiry of his Rotherham deal.
Jennings had returned to pre-season training on Tuesday with the rest of the Motherwell squad but his signature was a relief to manager Stuart McCall following an impressive season.
McCall said: "Towards the end of last season it looked like we wouldn't get him back here so we're delighted he has another year with us and who knows after that?
"His last couple of contracts have been a year and he has re-signed.
"His advisers and his agents thought they could possibly get him a Championship club and he had to wait on for that.
"It's not that he doesn't want to be here but you can understand he has to wait on. But he was back in Tuesday with all the lads and has been training well."
McCall added: "You need to speak to Steven but I certainly know he could have gone elsewhere for more money so it's good to have him here."
Jennings later told the club's official website: "I am delighted to be staying at Motherwell - it's a fantastic place to play your football.
"I've thoroughly enjoyed my time working under Stuart McCall and he's one of the main reasons why I wanted to stay here.
"The whole thing dragged on a little longer than it should have to be honest.
"I should've signed a few weeks ago but I've had a wee bit of a fall-out with my agent and that held things up slightly.
"But I am glad it's all sorted now and I concentrate on playing football again.
"I really think we've got a real chance of doing even better than last season and I want to be a part of that."
Grateful
Law is Motherwell's second signing of the summer following Michael Higdon's arrival from St Mirren and McCall was also instrumental in securing his signature.
The 23-year-old played for Sheffield United in the Premier League when McCall was assistant manager and was later reunited with his mentor during a loan spell with Bradford.
Law was immediately keen on a move to Motherwell when McCall took over in January and carried it through after just missing out on promotion to League One with Rotherham for a second successive season.
"I know the manager quite well, I've been with him since 16 really," Law said.
"He took me on loan at Bradford and I've always been grateful to Stuart for what he has done for me so far.
"He was a big part of it and I felt I needed a change as well.
"I've just turned 23, I felt I should come up and give Scotland a go. I feel it will be a good move."
The creative midfielder is excited at the prospect of playing in the SPL.
"I saw a lot of Motherwell's games last year, when I knew the manager was here I looked out for him," he said.
"It's a good league, there are some really good teams. I know Gav Gunning and Steve Jennings from loan spells.
Good move
"I knew a few people who have played in the SPL and from the choices I had most people felt this would be a good move.
"I spoke to quite a few teams in England in League One, Crawley and Scunthorpe and a few others.
"After speaking to the manager I felt this would be a good move. I haven't seen a lot of the SPL but the impression I have is that it's a similar level to the Championship."
McCall will now step up his attempts to re-sign Gunning following his loan spell from Blackburn in the second half of last season.
"We really only have one spot left," McCall said. "Although the budget is the same, a lot of the players have got more money so it has basically taken a place off us.
"But I'm delighted we have kept the quality intact. We need to get one more in the defensive area."