Gers reveal extent of shortfall
Rangers' administrators need to save £1million a month while a decision on possible player redundancies has been delayed.
Last Updated: 02/03/12 8:46pm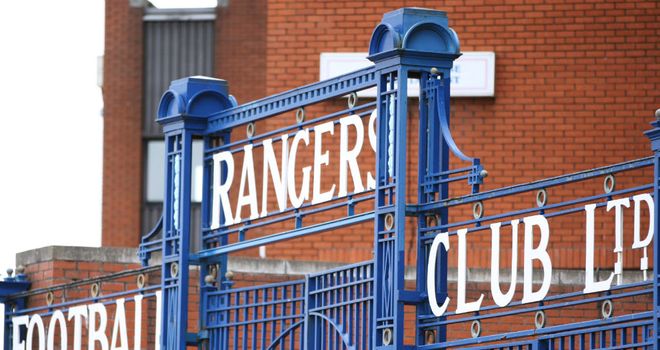 Rangers' administrators say the financially-challenged club needs to save £1million a month while a decision on possible player redundancies has been delayed until next week.
Gers entered administration last month over an unpaid tax bill of £9million accrued since Craig Whyte's takeover and administrators, Duff and Phelps, have been busy implementing cost-cutting measures.
The Ibrox club are trading at a 'substantial loss' and need to make up an approximate £4.5million in the club's finances by the end of the season, equivalent to saving £1m per calendar month.
The SPL champions were also expected to complete their review of staffing levels on Friday, however, administrators have confirmed the international break has 'interrupted' the process.
With the club due to take on Hearts in SPL action on Saturday, administrators have now decided to delay the announcement on possible player redundancies until early next week.
Difficult week
Paul Clark, joint administrator, said: "We appreciate this has been an extremely difficult week for all the staff of Rangers Football Club and the supporters.
"As administrators, we had anticipated completing our review of staffing levels and cost structure of the Rangers business this week but the participation of a number of players in international fixtures did interrupt the process.
"In short, the Rangers business is trading at a substantial loss and we have no alternative but to fill an approximate £4.5 million shortfall by the end of the season. It is therefore imperative that we find savings of approximately £1million per month to ensure the ongoing viability of the business.
"As has been widely publicised, there have been a number of discussions this week in an effort to achieve the necessary cost reductions. We are determined that all realistic options should be explored and today discussions have been ongoing with Ally McCoist who, in turn, has been speaking to his players and the PFA Scotland.
"We would prefer to reach a consensual position but as the day has gone on and tomorrow's very important match against Hearts looms larger, it has been agreed that any final decisions have been postponed until early next week.
Application
"On other matters, we can report that we made this week an emergency application to the High Court in London to secure money held in the client account of solicitors, Collyer Bristow, who had acted for the purchaser of the Club in May 2011.We can confirm that following the court hearing Collyer Bristow paid approximately £3.6m to our lawyers, Taylor Wessing, to be held securely by Taylor Wessing until the High Court decides whether or not it is the Club's money.
"Collyer Bristow will also disclose to Taylor Wessing details of the payments of funds out of their account on behalf of the Club since May 2011.The High Court in London will hear further representations on the administrators' claim to the money and our request for further information from Collyer Bristow on 8 March 2011.
"Since legal proceedings are ongoing we cannot provide further information but this is a positive step in the administrators' investigations into the Club's financial affairs.
"Right now, the situation is quite simple - income generated now will help secure the future of Rangers and we encourage supporters, who have shown tremendous backing for the club throughout this process, to buy tickets for the Hearts game at Ibrox tomorrow and future home matches."
PFA discussions
PFA Scotland later released a statement to say that negotiations were still continuing over the players' offer to defer wages.
The statement read: "Further discussions took place today between PFA Scotland and the club's administrators.
"The first formal meeting between PFA Scotland and Duff and Phelps took place yesterday. Following that meeting PFA Scotland met with the players during which our members gave the Union a mandate to agree substantial salary deferrals by the first-team squad to take immediate effect, lasting until the end of the season.
"At yesterday's meeting the Union and their solicitors were concerned that they were only being furnished with skeletal financial information.
"Nevertheless, and despite the lack of visibility on the club's full finances, the players voted to accept significant salary deferrals in the full knowledge that there remains a risk that these sums may never be repaid should the club not come out of administration.
"A further meeting took place today between PFA Scotland, the Administrators and their respective legal teams. Unfortunately, the administrators indicated that it was highly unlikely that they would be able to agree to our members' proposal and the meeting concluded without agreement.
"It remains our members' belief that their offer of wholescale wage deferrals addresses the administrators' goal of achieving short term cost reductions and would also serve to assist ongoing discussions with potential investors.
"It is still our members' wish to reach a consensual position with the Duff and Phelps which will achieve the administrators' objectives, avoid redundancies and ensure that no player's employment is brought to an end in breach of contract."