Whyte does not want liquidation
Rangers owner Craig Whyte insists he does not want to see the club go into liquidation.
Last Updated: 03/04/12 8:19am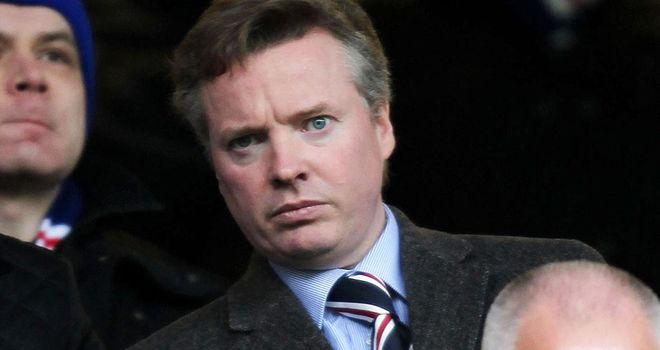 Rangers owner Craig Whyte insists he does not want to see the club go into liquidation.
Fears have been growing that the Glasgow giants could go out of business after being forced into administration in February.
Rangers' administrators Duff and Phelps set a deadline of 4th April for best and final offers from the Blue Knights, a US group fronted by Club 9 Sports and a consortium from the Far East.
Rangers director Dave King and the administrators have both admitted liquidation is a possibility at Ibrox, but Whyte disagrees with the assertion that it is likely.
"I do not favour liquidation at all, it is not necessary," Whyte said.
"I want to exit administration with a CVA (company voluntary arrangement). There is no reason whatsoever that that can't happen.
"Liquidation is no good for Rangers. It will end 140 years of history.
"I can understand why some people might think it is a good idea but we have to keep Rangers alive."
Disagree
Whyte also rejected the notion from Duff and Phelps that he is irrelevant in the process of the takeover of the club and the businessman admits he is ready to walk away with nothing.
"They can describe me this way if they like, but I would disagree with it," added Whyte. "I am still the owner.
"But I am willing to walk away if it is for the good of the club. I wouldn't make anything out of it.
"I have £30million in cash and guarantees on the line but I would walk away if it is best for Rangers.
Whyte also revealed he has spoken to several of the parties interested in buying the club, including members of the Blue Knights.
"I have been in touch with a couple of bidders. If I can help any of them I will," continued Whyte.
Whyte is sceptical over former Rangers director Paul Murray's ability to help the club but he is happy to co-operate over the Blue Knights consortium's bid.
"We have never seen eye to eye," Whyte said.
"I haven't spoken to him since last May. He is one of the old board. I don't see what he brings to the party.
"But there are some good guys in the Blue Knights and I've spoken to a couple of them, and I have no problem with them."